Game of Thrones Season 8 Episode 5 trailer: Rejoice, Daenerys vs Cersei battle will happen in daylight
HBO has released the trailer for the upcoming fifth episode of Game of Thrones' final season, which is going to feature yet another major battle, as Jon Snow and Daenerys Targaryen close in on Cersei Lannister.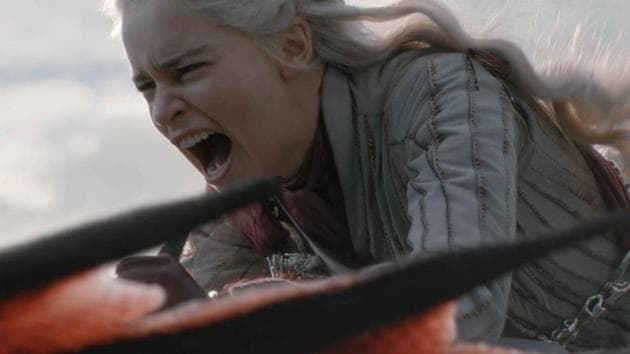 Updated on May 09, 2020 09:51 PM IST
HBO has released the teaser for next week's episode of Game of Thrones, hot on the heels of episode four, The Last of Starks. The 50-second video teases the culmination of eight seasons worth of storytelling, as the allied forces of the North and Daenerys Targaryen's massive (but depleted) army take the fight to Cersei Lannister in King's Landing.
We see glimpses of a major naval battle, with Euron Greyjoy commanding his Golden Fleet, and we're shown a very serious-looking Tyrion Lannister, pacing about in Dragonstone. Not a single word of dialogue is spoken, although another epic battle is teased. The clip ends with Euron looking up at the sky, possibly at Dany's last remaining dragon, Drogon.
Also read: Game of Thrones season 8 episode 4 review The Last of Starks: Neither Brienne-Jaime nor an orgy can save this one
Euron was the one who shot down Rhaegal in episode four, and his growing allegiance with Cersei is becoming stronger, now that a future offspring is on the cards. Fans would also be pleased to know that the upcoming battle will likely take place in stark daylight - many complained that episode three, The Long Night, was too dark to enjoy.
WATCH: Game of Thrones stars reveal their favorite death scene
With only two episodes left in Game of Thrones' final season, and with the formidable Night King having been vanquished, the central conflict is now focussed on the Lannisters and the Starks. The revelation of Jon Snow's parentage has raised questions about his relationship with Dany, and with his siblings, who don't seem to like her at all.
Fans have also said that the death of her second dragon has sent Dany into a murderous rage, and have even compared her to the Mad King. We'll find out on Monday, when Game of Thrones returns for its penultimate episode on Hotstar. The show will also air on Star World and Star World HD every Tuesday at 10 pm.
Follow @htshowbiz for more
Close Story
Personalise your news feed. Follow trending topics