Nia Sharma to Rubina Dilaik: It's a bad, bad internet out there for female TV actors
Actors Nia Sharma, Rubina Dalik, Leena Jumani, Sriti Jha, Sonarika Bhadoria among others who play demure roles on TV, often get trolled for their sexy avatars online. We explore why.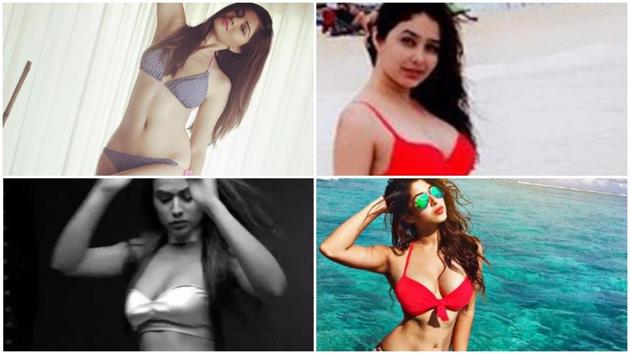 Updated on Feb 18, 2017 08:10 PM IST
Recently, Nia Sharma's video on Instagram created a furore on social media, as she was inundated with many reactions that questioned her character. The actor was spammed by trolls that called her a "porn star". However, this is not the only instance. Photos of many actors in bikinis such as Rubina Dilaik, Leena Jumani, Sriti Jha and Sonarika Bhadoria faced backlash and a barrage of offensive comments on social media.
So, what is the cause of these extreme reactions towards popular actors on TV? Industry sources believe audiences love actors who enjoy popularity owing to their super hit TV shows. However, they can't relate to the bold, modern avatar they see on social media. "With TV actors, the connection and bond is stronger and it is tough for them to accept that their favourite bahu or beti, who they see clad in Indian wear daily, can look hot in real life," says Leena.
+
Target of discrimination
On the other hand, Nia Sharma thinks it's their "sick mentality". She is quick to add that it doesn't deter her at all. She feels models who post these kinds of photos are not subjected to such remarks, as people don't look at them "differently". "I will do what I want as an actor. If I can play a bahu, I can play a bold girl too. If my profession requires me to be sexy, I will be. People don't follow me on social media to know about my TV characters Manvi or Roshni, but my real self," she says.
Director and producer Ravindra Gautam differs in his opinion. He says, "Unlike film actors, TV actresses are not looked upon as glam dolls or fashion divas. Instead their characters become part of viewers' families and their daily lives. The audience looks at them as their daughters, bahus, etc."
+
The character matters
Leena feels the reactions also depend on whether the actor is playing a negative or positive role on the small screen. "For actors who play positive roles, reactions range from 'You should have not worn such revealing outfits' to 'How could you do so?' The ones playing negative roles, like me, get comments such as, 'She is shameless. What could one expect from her?' These are just opinions but they hurt. You have to learn to ignore them."
+
Rubina stated in an interview that she didn't post her bikini picture for instant gratification, but to represent herself on social media. As actors are known by the characters they essay, fans get shocked when they see their real personality.
However, Leena believes that people would reach to any photo, even if it's "sexy or not".She says, "I have put up photos of my makeup and hair, yet people have been nasty." But, Leena states she isn't discouraged and won't stop posting photos of her in revealing outfits.
+
A matter of opinion
While there are speculations that some actors upload photos to showcase their glamorous or sexy side in order to catch the attention of film-makers, producer Siddharth P Malhotra feels differently. He says, "I don't see honest film-makers casting actors because they see such pictures. They click pictures because they like it, and to get spoken about or to increase their fan base."
+
Close Story