Koffee With Karan: Ajay Devgn calls Kajol 'low-maintenance' wife, accepts he can be friends with Karan Johar
Nov 30, 2018 10:49 AM IST
Karan Johar and Ajay Devgn may have fought over the clash of Ae Dil Hai Mushkil and Shivaay in 2016, but two years on, the unlikely friends along with their common link, Kajol, will chat on Koffee With Karan this Sunday.
Karan Johar and Kajol have been friends since their childhood. They have weaved box office magic together with films like Kuch Kuch Hota Hai and My Name Is Khan. Sadly, sometimes, even the best of friends can have massive fallouts too. That is exactly what happened with Karan and Kajol in 2016 over the release of their respective productions—Ajay Devgn's directorial Shivaay and Karan's Ae Dil Hai Mushkil.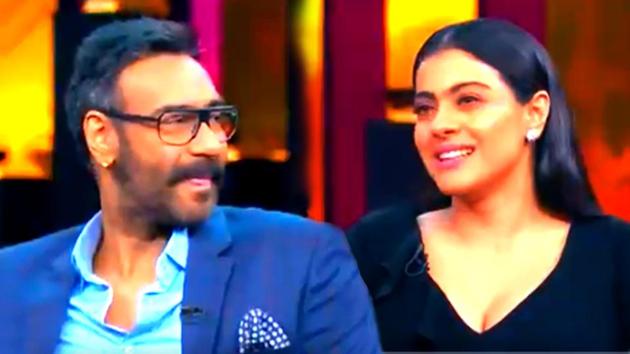 However, two years on, two of the most popular faces of Bollywood have patched up. Coming up in early December, we will see the husband-wife duo Ajay and Kajol grace the couch with host Karan grilling them on Koffee With Karan 6 this Sunday.
According to a report in Mumbai Mirror, the Devgns gave away a lot of secrets about their private lives. Given that Karan has never shared a warm relationship with Ajay, the report adds how at, one instance, during the show, Karan asks him if they can be friends. To which, Ajay says 'Yes' but Kajol interjects saying that Karan is her friend.
Elaborating further, Ajay explains that often people mistake him to be arrogant but he was simply an introvert, who preferred staying indoors than parties, events or award functions. Karan asked him if it was his 'social anxiety' to which Ajay said, "yes, may be". Of course, Kajol's has the last word. She again interrupts, saying it was "just laziness".
In no time, Karan shifts focus to his long-time bestie Kajol. Calling her "low-maintenance wife", Karan asks her why she chooses to shop at Santa Cruz market rather than flaunt designer lables. Kajol accepts that she wears designer brands only for public appearances as comfort was most important for her. Between Karan and Ajay, both accept that Kajol was rather thrifty when it came to spending money. In fact, Ajay reveals how she has moved to online shopping in a major way and how she keeps picking up stuff worth Rs 500 to Rs 1200 on a routine basis and how seven to eight parcels arrive at their home almost daily. "And then she's sitting on it exclaiming 'See how much this is for, only Rs 600'."
Kajol goes on to add how she maintaining expensive clothes and accessories is always a bother to her. "I'd rather put my money in fixed deposits than spend on something expensive that has no bloody returns."
Ajay, in fact, adds how he wanted to gift her a Louis Vuitton bag and she shot back with half a dozen questions on whether it had a front zip, if there was a pocket at the back and so on and so forth. Kajol justifies her dislike for expensive gifts as she is always worried about how to keep them safe, how she can't put them on the floor, etc.
Ajay explains how, on one occasion, he planned to buy a new car on her birthday as she hardly makes any demands. He says: "Every year, I choose a car I want and say, 'Baby, I'm getting you a birthday gift,' only to take it back later."
Follow @htshowbiz for more