Sophie Turner, Joe Jonas marry in Vegas, pull off most anti-Priyanka Chopra-Nick Jonas wedding ever. See pics, videos
May 08, 2020 06:35 PM IST
Priyanka Chopra's brother-in-law Joe Jonas married Game of Thrones star Sophie Turner in a surprise wedding at a Las Vegas chapel hours after they were all seen at Billboard Music Awards 2019 on Wednesday.
Game of Thrones star Sophie Turner and singer Joe Jonas got married in a surprise ceremony in Las Vegas hours after they attended the Billboard Music Awards 2019 with Priyanka Chopra and Nick Jonas. According to an E! News report, the couple are officially married after obtaining a marriage license at a Las Vegas wedding chapel.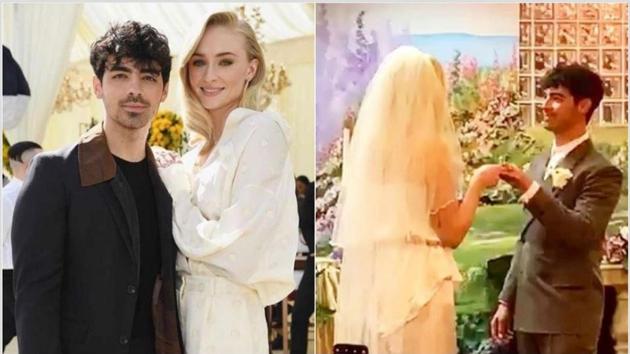 The news of Sophie and Joe's wedding trickled out after DJ Diplo posted video from their wedding ceremony. The 23-year-old Game of Thrones actor was seen walking down the aisle in a white bridal ensemble. From what is visible of the wedding ceremony, an Elvis Presley impersonator officiated at the ceremony.
Also read: Game of Thrones' The Long Night is series' second worst rated episode on Rotten Tomatoes. Can you guess the worst one?
Sophie was seen cheering for Jonas Brothers along with Priyanka Chopra and Danielle Jonas at the Billboard Awards. Nick and Joe had also kissed their significant others during the performance.
It appears Joe was as good as his word when he had hilariously dissed Priyanka Chopra-Nick Jonas' lavish wedding in Udaipur last year. Appearing on The Late Late Show with James Corden, Joe was asked about his wedding plans with Sophie. He had said they are planning a summer wedding. James then asked him what lessons he has taken from Nick' wedding to Priyanka. "Mostly things not to do," Joe said. " Both were absolutely beautiful. All 18 of Nick's were amazing," he added.
The couple announced their engagement in October 2017 after more than a year together. When asked about the relationship, Sophie had said, "You do feel like you're living in a fishbowl."
"I'm happier than I've been in a very long time," she said in another video. "I very much isolated myself for a while and forgot what was fun. Going out with friends, going out to eat, not really having a care. And people I've met recently in my life have drawn me out of that. It really helps you own those insecurities. The things I tortured myself about before, I can forget about."
"A lot of [my happiness now] is to do with being with a person I've fallen in love with, who loves me more than he loves himself, and who wants to see me find my own happiness," she told Glamour U.K. "That was probably the biggest thing that pushed me to find who I am — and find my happiness in things other than acting."
Follow @htshowbiz for more