'We were surrounded by books everywhere in the house,' says Kanishk Tharoor
Author Kanishk Tharoor on his debut collection of short stories, surviving New York City and what inspires his fiction.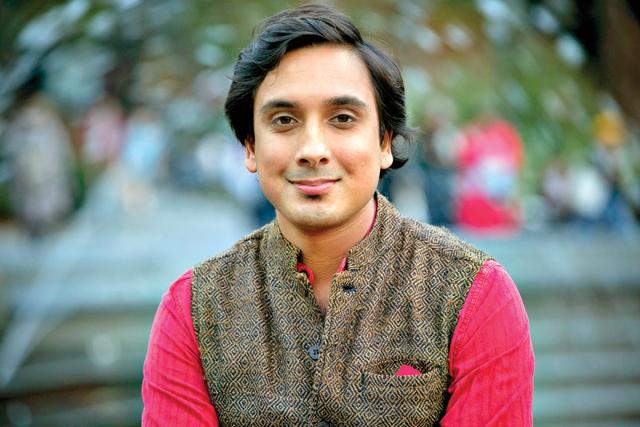 Updated on Feb 16, 2016 03:10 PM IST
A debut is always fraught with expectations, and the pressure to live up to them increases greatly if you already have a famous writer in the family. But New York-based writer Kanishk Tharoor, son of Congress MP and author Shashi Tharoor, seems to wear the pressure lightly. His first published piece of short fiction was nominated for the National Magazine Award in the US in 2009. His recently released collection of short stories, Swimmer Among the Stars, has also heralded him as a writer of great promise.
Tharoor's stories are not set in a specific place or time. They cover subjects as diverse as dying languages, towns on the brink of invasion, Kerala elephants en route to Morocco and yes, diplomats, but in space. And yet, they echo the time we live in. It seems fitting, considering that Tharoor, who was born (along with his twin brother Ishaan) in Singapore, spent time in Geneva as a toddler, went to pre-school in Kolkata and has been a resident of New York City since age six. Excerpts from an interview:
How were you introduced to the world of books?
My mother is a professor of literature at New York University and my father is a writer as well. So we were surrounded by books everywhere in the house, as well as the activity of reading and writing.
When did you realise you wanted to be a storyteller?
It wasn't so much a choice of 'wanting to be a writer' but it just happened to be something that I did. From quite a young age, Ishaan and I would write stories. Our parents always encouraged us. So it seemed like a natural and eminently reasonable thing to do. While I was in college, I began writing fiction in earnest (the earliest story in my collection was written when I was 19) and from then on, it's always been an ambition that I kept alongside other ambitions.
You studied history and literature at Yale. Were you not lured by academia?
I have a huge amount of respect for scholars, the great exertions of their research, the tremendous rigour of their writing. I flirted for a while with the idea of becoming a professional historian. But in the end, I came to the conclusion that the academic route wasn't for me, and that were I to more seriously write history or cultural criticism in the future, it would be for a wider public audience and not necessarily written in the academic mode. There are plenty of wonderful writers of serious, accomplished and meaningful non-academic history out there (from Neal Ascherson to Raghu Karnad) and I'm happy to learn from them.
What drew you to the idea of writing short stories?
I love the playfulness that a short story allows you. An adventurous or outlandish premise that can't be sustained over 200 pages often fares much better over 20 pages. But I'm also at work on a novel and I probably read more novels than collections of short fiction. I don't have an ideological affinity to the short story over the novel.
Some stories in the collection hint at contemporary events, but most have a timeless, dreamlike quality. What inspires your fiction?
Lots of things. Real-life experiences; things I've observed, read, watched, heard; everyday politics; peculiar moments in history; legends and folktales; and so on. I'm a sponge for all sorts of material, and I wring it out in my fiction.
How easy or difficult is it to survive in New York as a writer?
If you live with an appropriate sense of thrift (and you have a partner to share the rent with), it's doable. But I'll have a better idea in the coming years!
A lot of your stories are about exile and displacement. Were these drawn from your own experience of growing up in different places?
No, not really. I've never really felt 'displaced' or anxious about my identity as I suppose a lot of people living 'in diaspora' have. I'm quite comfortable in the knowledge of my Indianness as well as my rootedness in New York City, and my understanding of the wider world. So I don't see these themes as a reflection of my own life, but rather of what I've seen in the world around me and beyond me.
How do you handle the pressure and expectations that come with having a father who is a renowned writer?
By writing as well and as intelligently as I can.
You got married last August. How did you meet your wife, Amanda Calderon?
We met in graduate school at New York University, where we both had fellowships in the creative writing programme (she is a wonderful poet). We're each other's first readers.
Who are the writers you love?
There are too many to list here, but I will cite my particular fondness for Jose Saramago, Italo Calvino, Toni Morrison and Amitav Ghosh.
You are currently working on a novel. What is it about?
It's set in the 15th century and not in India. That's all I'll say for now until it's finished.
Follow @DoNotRamble on Twitter
From HT Brunch, February 14, 2016
Follow us on twitter.com/HTBrunch
Connect with us on facebook.com/hindustantimesbrunch
Close Story