Pakistan: Ten killed, 30 injured by blast in Lahore
A blast in a market in the eastern Pakistani city of Lahore has killed ten people and injured 30. This was the latest in a wave of terror attacks that has rattled the country.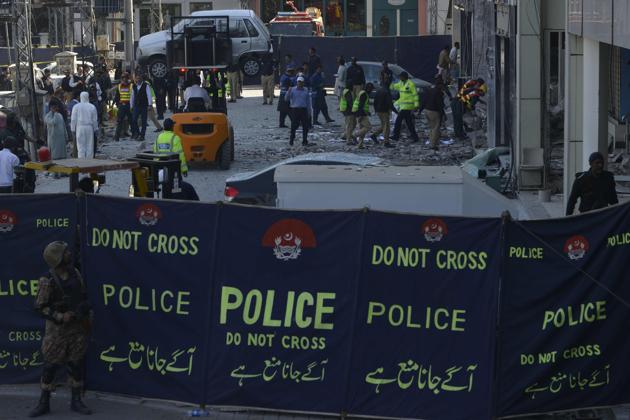 Updated on Feb 23, 2017 10:09 PM IST
Hindustan Times, Islamabad |
Imtiaz Ahmad
At least ten people were killed and 30 others injured when a blast ripped through an upmarket area in the eastern Pakistani city of Lahore on Thursday, the latest in a wave of terror attacks that has claimed nearly 130 lives.
The blast came just a day after the military announced it would launch a new nationwide drive against terrorists. For the first time, paramilitary troops will target terrorists in Punjab, of which Lahore is the capital.
Media reports quoted police sources as saying that a timed device with 10 kg of explosives was used in the attack. The explosion occurred in an under-construction building in a market in the Defence Housing Authority, which was cordoned off by Security forces.
"It was a bomb attack," Nayab Haider, a spokesman for Punjab Police, said.
Punjab health minister Khawaja Salman Rafique told reporters eight people were killed and 30 others injured. Two more bodies were later recovered from the debris of the under-construction building.
The CEO of Pakistan's Airlink firm, Moazzam Paracha, was among the dead. Some of the wounded were in a critical condition.
A few days earlier, the same market was evacuated by law enforcement agencies after a bomb threat. The Defence Housing Authority is home to several boutiques, cafes and businesses.
Footage on television showed extensive damage. The powerful explosion blew out the windows of several buildings and damaged cars. People panicked and ran from the area after the attack.
There were also reports of a second blast near another market at Gulberg in Lahore but this was denied by provincial law minister Rana Sanaullah.
Initial reports on Geo News channel after the first blast said a generator had exploded but officials later confirmed a bomb had gone off.
A wave of suicide attacks and bombings in the past ten days has killed nearly 130 people across Pakistan and injured hundreds more. The attacks have been claimed by the Pakistani Taliban, Islamic State and Jamaat-ul-Ahrar.
A witness who works at a bank in the market at Defence Housing Authority told Reuters his workplace was shaken by a "frightening" explosion.
"We left the building and saw that the motorbikes parked outside were on fire and all the windows in the surrounding buildings were shattered," the witness, Mohammad Khurram, said.
On Wednesday, the Pakistani military announced the launch of Operation Radd-ul-Fasaad to eliminate terrorists following the spike in suicide attacks and bombings. The decision to begin the operation was taken at a meeting chaired by army chief Gen Qamar Javed Bajwa at the corps headquarters in Lahore.
(With inputs from agencies)
Close Story