Canada: Foreign minister Melanie Joly to visit India, hold talks with S Jaishankar
Feb 02, 2023 05:39 PM IST
Among the major agenda items will be Canada's new Indo-Pacific Strategy, which was released in November last year, as well as the ongoing discussions over clinching an Early Progress Trade Agreement
Toronto: Canada's foreign minister Melanie Joly will visit India next week for bilateral meetings.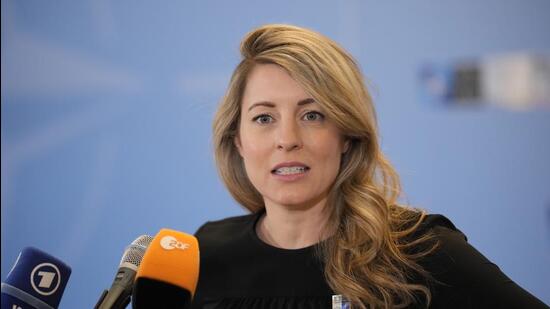 While the official schedule has yet to be released, she is expected to be in India on February 6 and 7, senior Canadian and Indian officials confirmed. She will hold a bilateral with India's external affairs minister S Jaishankar, among other engagements during the trip.
Joly was initially expected to make the trip in March, for the G20 foreign ministers vertical and potentially also participate in the Raisina Dialogue, organised by the Observer Research Foundation with the Ministry of External Affairs. However, the fact she is travelling earlier for a standalone bilateral, is indicative of the new emphasis placed by the Government of Prime Minister Justin Trudeau on bringing the underperforming relationship back on track.
Among the major agenda items will be Canada's new Indo-Pacific Strategy, which was released in November last year, as well as the ongoing discussions over clinching an Early Progress Trade Agreement (EPTA).
India remains concerned over the activities of pro-Khalistan elements in Canada and New Delhi has been irked by the two rounds of voting in the so-called non-binding Punjab Referendum organised by the secessionist group, Sikhs for Justice (SFJ). However, a senior Indian official said both sides are willing to engage in constructive dialogue to the take ties forward. The situation in Ukraine a year after Russia attacked that country will also be an important part of the dialogue. In fact, Joly was expected to visit India in March last year but that trip didn't occur as Canada's priority became the Ukraine conflict
Joly and Jaishankar spoke on December 11. A senior Canadian official said at the time, "The call was positive and ministers look forward to seeing each other early in 2023."
During that conversation they discussed the new Indo-Pacific Strategy. Canada has placed its Indo-Pacific Strategy at the centre of its engagement with the region, with India being of particular importance where it was described as a "critical partner". It further added, "India's strategic importance and leadership - both across the region and globally - will only increase as India - the world's biggest democracy - becomes the most populous country in the world and continues to grow its economy."
Joly tweeted after the telephonic conversation that New Delhi and Ottawa "plan to work together to strengthen our people-to-people ties and advance our shared interests" as India chairs the G20.
The two ministers met in person over the summer of 2022 on the margins of the Commonwealth Heads of Government Meeting 2022 in Kigali, Rwanda.