China begins Mt Everest clean up, collect 4 tons of garbage
Beijing |
The Associated Press
May 11, 2017 06:17 PM IST
Every year, as many as 60,000 climbers descend on Mount Everest's north side to scale it. However, this also generates a lot of garbage from discarded oxygen tanks, plastic bags to stove equipment, tents and so on.
Workers and volunteers have collected four tons of garbage from the Chinese north side of Mount Everest in the first five days of a clean up operation, state media reported Thursday.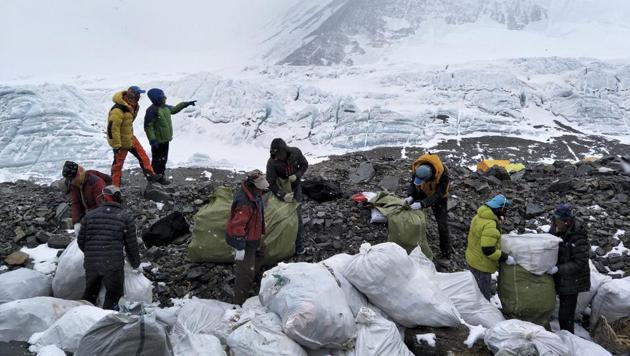 Hoping to find a more permanent solution, the local government in the Tibet region is setting up stations to sort, recycle and break down the garbage, which includes cans, plastic bags, stove equipment, tents, oxygen tanks and other mountain climbing paraphernalia, the official Xinhua News Agency said.
The nine-day clean up that began on Saturday targets climbing trails and campsites between 17,000 and 21,300 feet.
Parts of Everest are in China and Nepal. Each year, about 60,000 climbers and guides visit the Chinese north side of the mountain, which China refers to by its Tibetan name, Mount Qomolangma.
On the Nepalese side, mountaineering expedition organisers have begun sending huge trash bags with climbers during the spring climbing season to collect trash that then can be winched by helicopters back to the base camp.