China media plays up study that suggests India is worst emitter of sulphur dioxide
This could be the first time in almost 20 years that a country has surpassed China in sulphur dioxide emissions, experts told the official Xinhua news agency.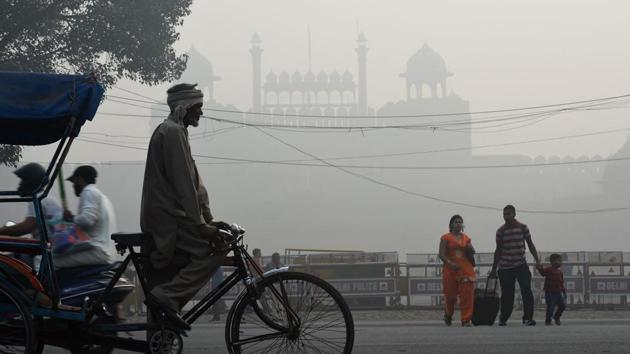 Updated on Nov 10, 2017 03:04 PM IST
Hindustan Times, Beijing |
, Beijing
Sutirtho Patranobis
Beijing's state media on Friday played up the findings of a new US study that suggested India may have displaced China as the world's largest emitter of sulphur dioxide (SO2), a toxic pollutant that has a serious impact on human health.
SO2 emissions have declined by 75% in China since 2007, while in India, the rate has increased by a worrying 50%, according to the study by researchers at the University of Maryland.
The findings, published on Thursday in the journal Scientific Reports, were widely picked up by China's official media.
The report comes at a time when New Delhi and surrounding areas are grappling with a severe spell of pollution caused by multiple factors, including stubble burning in neighbouring states, vehicular emissions, dust and construction activities.
China and India are the world's top consumers of coal, which typically contains up to 3% sulphur. In both countries, SO2 emissions come from coal-fired power plants and coal-burning factories.
This could be the first time in almost 20 years that a country has surpassed China in SO2 emissions, experts told the official Xinhua news agency.
"The rapid decrease of SO2 emissions in China far exceeds our expectations and projections," author Can Li, an associate research scientist at the University of Maryland, told Xinhua.
A range of measures put in place by China over the past decade, including tougher fines for polluters and better pollution control technologies, helped
The country cut SO2 emissions even though coal usage increased by 50% and electricity generation rose 100%.
"The rate of the SO2 emission reduction in China is staggering, demonstrating how effective China's pollution control measures are," said Li.
Li and colleagues came to the conclusion after examining data from the US space agency Nasa's Aura spacecraft to study SO2 pollution changes in China and India from 2005 to 2016, with results verified by aircraft measurements, Xinhua reported.
SO2 emissions were around 11 megatons for India while China emitted 8.4 megatons.
"The emissions from China, it showed, peaked at about 37 megatons in 2007, and have since been on a generally decreasing trajectory," the report said.
"Right now, India's increased sulphur dioxide emissions are not causing as many haze problems as they do in China because the largest emission sources are not in the most densely populated area of India," Li said. "However, as demand for electricity grows in India, the impact may worsen."
The report added, "Previously published studies, which relied on inventory data and published policies, projected that China's sulphur dioxide emissions would not fall to current levels until 2030 at the earliest. The estimated emissions for India, on the other hand, indicated relatively steady growth during the same period."
Qiang Zhang, professor of atmospheric sciences at Tsinghua University in Beijing, called the study "very significant".
"The ultimate goal of air quality improvement would be reached as the result of coordinated multi-pollutant emission reductions," Zhang said.
"In the future, we should pay more attention to NOX and VOCs emission reductions while effective SO2 control should be continued."
Close Story
Personalise your news feed. Follow trending topics