Lunar New Year 2023: When is the holiday and how is it celebrated? Details here
Jan 14, 2023 01:43 PM IST
Lunar New Year 2023: The Lunar New Year is a seven-day holiday and is one of the biggest festivities celebrated across Asia.
China is gearing up to celebrate the onset of New Lunar Year 2023 with celebrations across the nation amid Covid pandemic. In 2023, Lunar New Year will commence on January 22 and end on February 5. However, not many of you would know about the Lunar New Year, its origin, significance, and the way it is celebrated.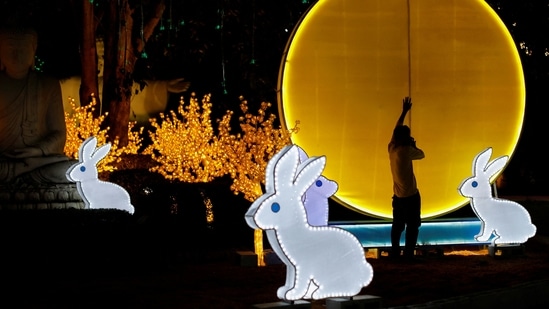 Read here: How many people in China may have Covid? About 900 million, says study
The Lunar New Year is observed and celebrated in various ways from nation to nation. In South Korea it is celebrated as Seollal while in Vietnam, it is called Tet.
What is the Lunar New Year?
The festival's date is determined by the Chinese Lunar Calendar which changes every year, but it always falls anytime between January 21 to February 20. The Lunar New Year follows a different calendar based on the twelve phases of the moon. The full calendar consists of around 354 days with each phase lasting about 29 days. It is generally 21–50 days behind the Gregorian calendar.
As per Chinese traditions, the first day of the Lunar Year is known as the Spring Festival, while the Lantern Festival marks the final day of the Lunar year.
Read here: Tet Holidays 2023: Vietnam to celebrate Lunar New Year. Origin and significance
Why is 2023 the Year of Rabbit?
As per the tradition, the Chinese zodiac links animal signs to each lunar year in a cycle of 12 years. The animal designation changes at the start of the New Year. This year is the year of the rabbit. 2022 was represented by the tiger, which is associated with bravery, courage and power. People associated with rabbit year are seen as caring, affectionate.
The 12 animals of the Chinese zodiac are Rat, Ox, Tiger, Rabbit, Dragon, Snake, Horse, Goat, Monkey, Rooster, Dog, and Pig.
Read here: This is Prince Harry's 'technique' to get King Charles, William back in his life
How is the Lunar year celebrated?
In China, the symbolic darkness of night is banished by the light of fireworks, lanterns, and candles. Paper lanterns are lit in public areas, marking the end of the previous year. Offices, banks, factories, shops, and most non-essential services are shut for a week. Hotels and large retail outlets stay open.