China's One Belt, One Road project causing maritime anxiety, says top US admiral
May 12, 2017 04:18 PM IST
The commander of the US Pacific Fleet, in India for consultations with his Indian counterpart, said questions about OBOR are being raised in every country he has visited.
The maritime implications of China's One Belt, One Road (OBOR) project are causing a "sense of anxiety" in the region, said Admiral Scott Swift, commander of the US Pacific Fleet who is in India for consultations with his Indian counterpart and the defence ministry.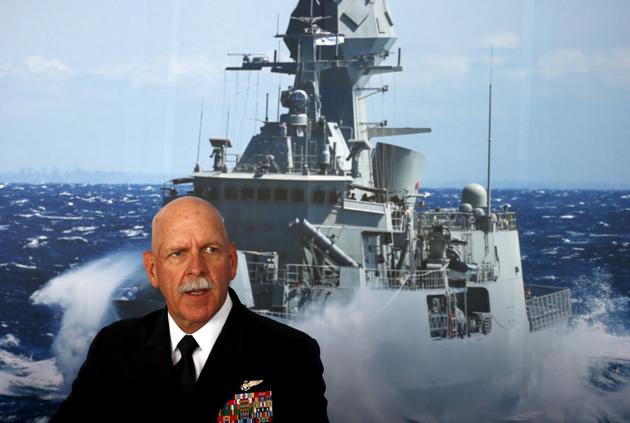 OBOR, the upcoming Malabar naval exercise and the carrier working group were among the topics of discussion.
Uncertainty over the OBOR initiative is being raised "in every country I visit", Swift said. Chinese warships are making an "OBOR tour" of the Pacific Ocean now, he noted, and their actions may give some insight into what Beijing plans.
China's actions are driving "increased dialogue on what is the intent of OBOR and where it is going", he said.
Swift was in Australia and Indonesia before he came to India and plans to visit Singapore next.
"The Malabar exercises are coming up in July in the Bay of Bengal area, " he said. They began as navigational exercises but have grown in size and depth and now include anti-submarine warfare and air defence. Japan permanently joined the drill last year.
Asked about possible Australian participation, he said, "What countries are included is a dialogue that is robust and continuing." He spoke of a "step by step" approach and Canberra's application as an observer.
Swift said that while the USS Carl Vinson carrier strike force, with Japanese and South Korean warships, had been deployed near North Korea, the US believed "diplomacy would be the best way forward" to deal with the situation in the Korean peninsula.
Swift said he saw the Indian Ocean as a "sea of stability" compared to what was happening in places such as the South China Sea or even the Mediterranean Sea. He attributed this in part to India's commitment to a rules-based order, noting how India and Bangladesh took their maritime territorial dispute to arbitration and India had accepted an unfavourable judgment.
He explained, "Security for security's sake makes little sense. Security's purpose is to provide stability and from that stability arises the prosperity we all enjoy."
Asked about American assistance for India's next aircraft carrier, he admitted the US was facing a "capacity" problem. The best US Navy carrier experts are simultaneously handling the de-commissioning of the USS Enterprise and these "same people" are in the Indo-US carrier group.
"It is difficult to accelerate the process but we have our best people working on it," he said.
The backdrop to this cooperation was "increasing Chinese carrier capability and capacity". China's first carrier, which used to operate only in the Bohai Gulf, he noted, had made its foray into the South China Sea in "strike force manner" with a warship escort. The second carrier has just been launched.