China summons Japan envoy over ex-PM's Taiwan remarks
Dec 02, 2021 03:49 PM IST
Chin lodged its protest after former Japanese prime minister Shinzo Abe said neither Tokyo nor Washington could stand by if China attacked Taiwan
China's foreign ministry summoned Japan's ambassador for an "emergency meeting" on Wednesday to lodge its protest after former Japanese prime minister Shinzo Abe said neither Tokyo nor Washington could stand by if China attacked Taiwan.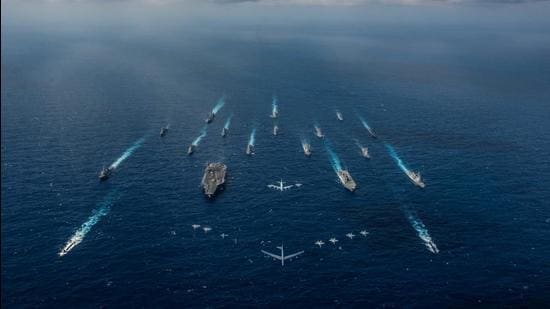 Assistant foreign minister Hua Chunying said Abe's remarks were "erroneous", and a violation of basic norms of relations between China and Japan in the meeting with Japanese ambassador Hideo Tarumi in Beijing, according to a statement from the Chinese foreign ministry.
"A Taiwan crisis would be a Japan crisis and therefore a crisis for the Japan-US alliance," Abe said in an online speech on Wednesday.
"It's imperative that people in Beijing not misjudge that, and most especially President Xi Jinping," he said.
"Military adventure would lead to economic suicide," Abe added.
Describing Abe's remarks as "extremely erroneous", Hua said it was "a brutal interference in China's internal affairs and challenged China's sovereignty."
"His flagrant support to the 'Taiwan independence' forces seriously violated the basic norms of international relations and principles stipulated in the four political documents between China and Japan," Hua said.
"China is resolutely opposed to this," Hua said, adding that China had made "stern representations" to Japan.
Hua said Japan is a country that launched a war of aggression against China in history and committed heinous crimes against the Chinese people, and has no right to point fingers on the Taiwan question, according to state media.
Abe's remarks and China's response indicate the growing tension in the region over Taiwan, a self-ruled democracy claimed by China as a breakaway region.
"Japan, Taiwan and all the people who believe in democracy need to keep urging President Xi Jinping and other Chinese Communist Party leaders repeatedly not to step onto a wrong path," Abe said, according to a Reuters report.
Japan and Taiwan must work together to protect freedom and democracy, Japan's former prime minister said.
"A stronger Taiwan, a thriving Taiwan, and a Taiwan that guarantees freedom and human rights are also in Japan's interests. Of course, this is also in the interests of the whole world," Abe added.