Davos Diary: Rock star Trump steals show at World Economic Forum
Jan 26, 2018 11:27 PM IST
Queues to enter the US president's closing address on Friday were among the longest seen at Davos, where people clamoured to take photos of the man and his entourage at the Congress Centre.
More snipers on rooftops, additional frisking after airport-style security checks and digital scanning of photo IDs, and enhanced visible police presence marked the arrival of US President Donald Trump at Davos.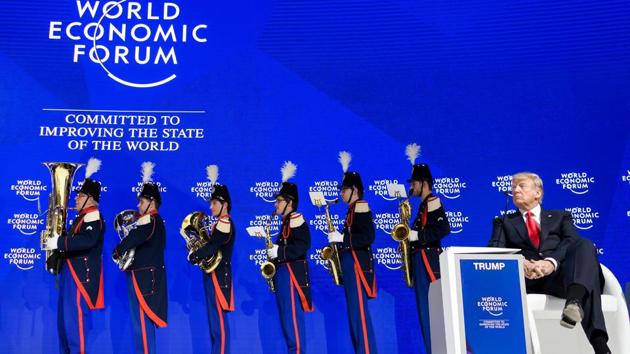 He landed on Thursday with son-in-law Jared Kushner but minus wife Melania and daughter Ivanka, to a rock star welcome.
Stay tuned with breaking news on HT Channel on Facebook.
Join Now
Queues to enter his closing address on Friday were among the longest seen at Davos, where people clamoured to take photos of the man and his entourage at the Congress Centre.
Protests against Trump in Zurich, two hours away, found no echo in Davos, where permission to protest was denied because it hampers security and traffic. Trump drew fire from anti-capitalists and environmentalists for his denial of global warming and pulling the US from the Paris agreement on climate change.
India gets energy smart
Smart marketing using visual differentiation between resource-efficient products, such as LED bulbs and renewable energy technologies, from conventional options can lead to widescale use, said Ajay Mathur, The Energy and Resources Institute (TERI) DG at a session on The Future of Finite Resources.
The star label for energy efficiency in India helped create a visual differentiation between conventional and energy-efficient refrigerators and air conditioners, among others, creating a "thoughtverse" that makes it both economical and aspirational. The sale of products with high star-rated air conditioners went up by 40% on average in 2017 compared to 2007, when the star labels were introduced in India, said Mathur.
Music of the spheres
Few know that particle physicist Fabiola Gianotti, 57, the first woman director-general of CERN, the European Organization for Nuclear Research, and project leader for its ATLAS experiment that led to the discovery of the Higgs boson "god particle" in 2012, is a classical pianist trained at the Milan Conservatory.
"I studied humanities --literature, art history, ancient languages and music – and turned to physics at university after I read the biography of Marie Curie when I was 17, which impressed and excited me. She had a lab at home and would cook soup for dinner and run to the lab to charge active samples," she said.
She believes we can give a push to science by creating role models. "Even today, young people have to understand the impact of science and technology on society. I wound to be able to answer the question of how the universe was created very sexy," she said.
The Italian system of education allowed her to study physics at university despite studying humanities in high school. "You shouldn't close career options for young people, you are too young at 16 to know what you want to do. A few more years to choose can add a lot to your maturity," she said.
She is a big supporter of a well-rounded education. "Humanities and music has contributed as much to my sciences as my physics studies," said Gianotti.
Voice forensics
At the Language Technologies Institute in Carnegie Mellon University, Rita Singh and team identify differences in voice imperceptible to the human ear by breaking down recorded speech into milliseconds of audio, and then using algorithms to spot unique identifiers.
"We are developing AI (artificial intelligence) tools that can create a 3D visual portrait of a suspect based on an audio recording, giving not just a facial sketch but also their height, weight, race and age," said Singh, who is a research faculty at the university.
There's more in the realm of AI and voice forensics. Based on audio, AI applications can help estimate the size of the room, whether it has windows and what the walls are made of.
"We can identify detectable signatures caused by fluctuations in the local electrical grid, which can be matched to databases to zoom in on the caller's physical location and the time the call was made," said Singh.