US tightens H-1B rules for computer programmers, warns against discrimination
Updated on Jul 19, 2017 03:41 PM IST
The citizenship and immigration services changed recruiting guidelines to prevent US firms or US-based units of multinationals from using it to hire computer programmers.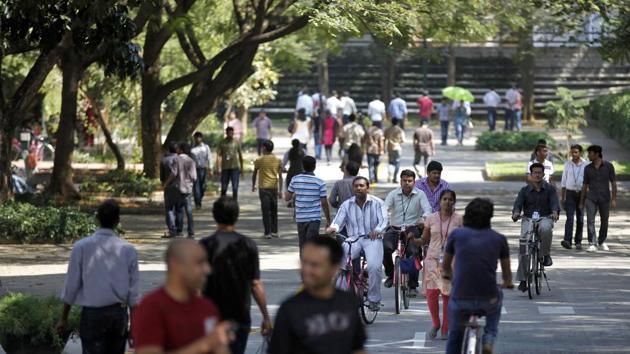 Washington, Hindustan Times |
Yashwant Raj
The United States has raised the specialisation bar for H-1B visas for hiring computer programmers and, on Monday, just around the time it began accepting petitions for 2018, warned employers against using the visa programme to discriminate against American workers.
The US Citizenship and Immigration Services (USCIS), which runs the H-1B programme, changed guidelines over the weekend to prevent US firms or US-based units of multinationals from using these visas to hire computer programmers.
In a March 31 policy memorandum, the USCIS said a computer programmer with an ability to use IT skill will not be sufficient. A petitioner "must provide other evidence to establish that the particular position is one in a specialty occupation".
The intention was to push companies to hire only high-skilled workers from abroad and leave low or medium level jobs for Americans, as has been the stated position of some in the Trump administration, who have been critical of this programme.
And on Monday, day one of the opening of the 2018 cycle, the justice department issued a stern warning to employers on using the high-skilled visa programme to discriminate against local workers.
"The Justice Department will not tolerate employers misusing the H-1B visa process to discriminate against US workers," said Acting Assistant Attorney General Tom Wheeler of the Civil Rights Division in a statement.
"US workers should not be placed in a disfavored status, and the department is wholeheartedly committed to investigating and vigorously prosecuting these claims," he added.
While the justice department is known to have investigated and prosecuted allegations of discrimination before, it could not be immediately confirmed if such a warning was ever issued around the time employers began filing H-1B petitions.
The justice department said in a statement that anti-discrimination provision of the Immigration and Nationality Act (INA) "prohibits employers from discriminating against US workers because of their citizenship or national origin in hiring, firing and recruiting", and added, "Employers violate the INA if they have a discriminatory hiring preference that favors H-1B visa holders over US workers".
The DoJ threat came at around the same time Monday as the USCIS threw open the process for accepting petitions for H-1B visas 2018, which will likely be over in just a few days given the high demand.
The United States grants 85,000 H-1B visas under an congressionally mandate cap every year — 65,000 to foreigners hired outside the US and 20,000 to international students enrolled in American colleges and universities.
The programme has come heightened scrutiny in recent years, with critics arguing it is being used by companies to hire temporary foreigners workers on low salaries to displace local American workers on higher salaries.
The same critics have targeted Indian IT companies such as Infosys, Tata Consultancy Services and Wipro accusing them of "gaming the system" by cornering a large portion of the annual disbursement of H-1Bs with a large number of applications.
Many of these critics are now in the administration of President Trump, who has said the H-1B programme, which he used earlier in his businesses, is broken. There was even a draft of an executive order that circulated briefly but was never issued.
One of the H-1B visa programme's chief critics is Attorney General Jeff Sessions, whose department issued the Monday warning with the threat of "investigating and vigorously prosecuting these claims" of Americans being displaced.
Indian IT companies, who admit to using this visa programme heavily, have, however, vigorously contested allegations of using this programme to discriminate against local workers, and have ramped up local hirings in recent years.