Fearing sectarianism, Pakistan's qawwali struggles to survive after Amjad Sabri's killing
Agence France-Presse, Karachi |
Agence France-Presse
Apr 27, 2018 03:14 PM IST
Pakistan qawwal Amjad Sabri's murder was just the latest in a series of blows in recent years to strike at the heart of qawwali, which has thrived in South Asia since the 13th century
Nearly two years after Pakistan's foremost qawwali singer Amjad Sabri was gunned down in Karachi, the devotional music of Islam's Sufi mystical sect is struggling to survive, as fears of sectarianism and modern pressures slowly drown out its powerfully hypnotic strains.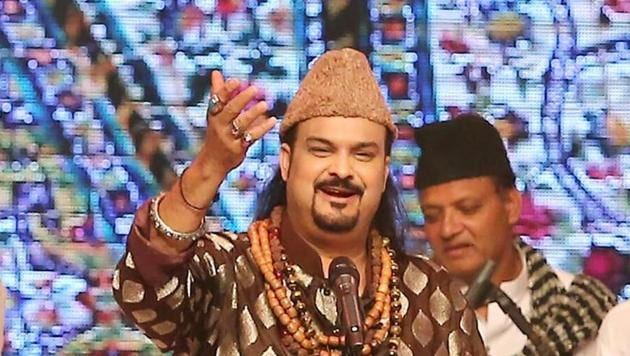 Thousands poured into the streets near Sabri's family home after his death for his funeral, a rare public display of affection in Karachi.
"He was a rockstar of the masses," explained journalist and musician Ali Raj, who studied under Sabri.
His murder was just the latest in a series of blows in recent years to strike at the heart of qawwali, which has thrived in South Asia since the 13th century.
"I am still in shock," Sabri's brother Talha told AFP from his family home adorned with pictures of his superstar sibling, whose fame spanned the subcontinent and beyond.
"Why do they hate qawwali? Why do they hate music?"
Embraced widely as a part of Pakistan's national identity, qawwali has played a key unifying role, with city-dwellers and villagers flocking to Sufi shrines for concerts.
Performances traditionally last hours, with a troupe of musicians interweaving soulful improvisational threads under lyrical, lilting vocal lines to a steady beat of thundering rhythms on dholak and tabla drums and hand clapping, sending fans drifting into trance-like transcendent states.
The genre entered a golden age in the 1970s as singers known as qawwals battled for prestige, with the Sabri Brothers -- led by Amjad's father, Ghulam Farid Sabri -- and Nusrat Fateh Ali Khan finding audiences around the world.
Following the death of Ghulam, Amjad took the helm and slowly carved out his place as Pakistan's most prominent qawwal, becoming a fixture on national television and radio.
But now musicians worry that his murder -- and the fear it sparked -- has hastened the decline of qawwali.
Fear, faith and finances
At Cafe Noor in Karachi where qawwals have gathered for decades, musicians said business has been falling for years, with fewer shrines willing to host performances.
Sectarian militants have targeted Sufis, a mystical sect of Islam, for years -- with the Taliban and increasingly the Islamic State sending suicide bombers to attack shrines over what they see as heretical displays of faith.
Just months after Sabri was killed, IS claimed back-to-back attacks on shrines in the provinces of Balochistan and Sindh that killed more than 100 people combined.
Earlier this month, the military approved death sentences for two militants linked to Sabri's killing.
But questions linger over who ordered the murder -- the Pakistani Taliban, or another group -- forcing his brother to spend months guarded by elite paramilitary rangers.
Such fears, meanwhile, are not the only factors triggering qawwali's decline.
Inflationary pressures have also kept the qawwals' working-class fanbase from hosting shows. Increasingly only the middle class or elite can afford to pay a qawwali group to perform at parties or weddings.
"In the good old times, even a poor man... would manage to organise qawwali," explained singer Hashim Ali, saying he is now lucky to play four or five shows during religious periods compared to dozens in the past.
The rise of more globalised interpretations of Islam has similarly chipped away at qawwali's popularity, as Muslims in Pakistan increasingly depart from the subcontinent's syncretic religious traditions and look to the Middle East for guidance.
"People access... (qawwali music) as a part of their faith," said Ahmer Naqvi, chief operations officer for Pakistani music app Patari.
"A lot of the younger population is abandoning the ways that the older generations worshipped."
Increasing conservatism has also hit the genre.
Even before Karachi's Abdullah Shah Ghazi Mazar shrine -- famed for hosting performances -- was attacked by the Taliban in 2010, organisers had imposed restrictions on shows for years as part of a campaign against qawwali's hashish-smoking fans.
The pressure has compelled more qawwals to try their hand at fusion, or even branch into more financially viable genres such as pop. Only a minority have embraced social media to promote themselves, journalist Raj said.
But they face an uphill battle.
"The youth... they don't know what exactly qawwali is," said fan Muhammad Saeed, 24, citing the popularity of contemporary music at home and from abroad, during a private show in Islamabad.
'Under pressure'
After 16 years playing by his brother's side, Talha Sabri said he has struggled to find his place on stage until Amjad's own sons are old enough to perform.
"We are under pressure," he said, with his long hair and neatly trimmed beard cutting a stark resemblance to his brother.
But even as he fears the possibility of extremists striking again, he refuses to be cowed.
"Regardless of these threats, we have to keep on," he said.
For Sabri's mother Asghari Begum however, the murder of her son marked a turning point for qawwali, ringing the death knell for its future.
Her family previously made it through the tumultuous 1980s, when political parties and gangs battled for turf, turning Karachi's streets into killing fields.
But they were respected then, passing unscathed through the city's numerous pickets.
Amjad's death proved things have changed.
"He has gone now," she said. "And the passion of qawwali has gone with him."