UK election: 2 Sikh MPs add to record Indian set in House of Commons
Jun 09, 2017 03:54 PM IST
Britain's House of Commons will have 12 Indian-origin MPs, surpassing the record of 10 in the last Parliament.
There is much delight in Britain's Sikh community over the election of Preet Kaur Gill – the first Sikh woman MP – and Tanmanjeet Singh Dhesi – the first turban-wearing Sikh MP – whose presence in the House of Commons increases the Indian-origin group from 10 to a record 12.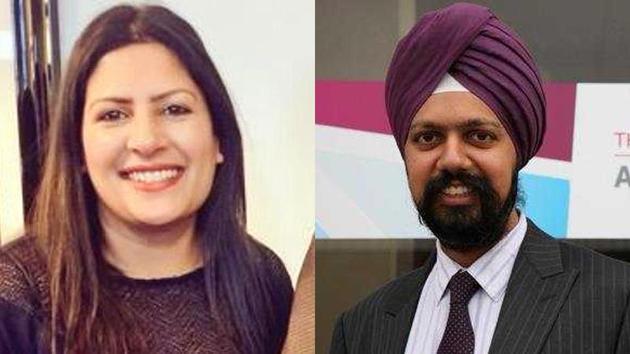 The dozen include seven from the Labour Party and five from the Conservative Party.
All 10 Indian-origin lawmakers in the previous Parliament expectedly retained their seats, with Dhesi (Slough) and Gill (Birmingham Edbaston) – both Labour – taking forward the "Indian" participation in British politics that began with Dadabhai Naoroji being elected in Finsbury Central in 1892.
There were more than 50 Indian-origin candidates from various parties in the fray.
Dhesi and Gill are not the first Sikhs to be elected MPs. Former lawmakers from the community include Paramjit Dhanda and Piara Singh Kabra.
Jasdev Singh Rai of the British Sikh Consultative Forum told Hindustan Times: "I think they (Dhesi and Gill) will have the same visible impact that Manmohan Singh had in raising the profile of the Sikhs in the world. They understand current issues and are very articulate.
"We can say the Sikhs have finally arrived on Britain's political scene. For too long, political parties have taken Sikhs for granted. We will now have a voice in Parliament. The two are well respected within the community, are in touch with gurdwaras sangats, Sikh youth and also know the issues of 1984 in depth," he added.
The Labour Party was praised by the community for delivering on its commitment to encourage Sikhs to contest elections. It promised in its manifesto to hold an independent inquiry into Britain's role in Operation Bluestar, which was conducted by Indian troops in 1984 to flush out Sikh extremists holed up in the Golden Temple in Amritsar.
Besides Dhesi and Gill, another turban-wearing Sikh almost made it – in Telford, Kuldip Sahota lost by 720 votes. Yet another Indian-origin candidate to lose narrowly was doctor-politician Neeraj Patil (Labour) in Putney against education secretary Justine Greening.
Senior Labour leader Keith Vaz, first elected from Leicester East in 1987, comfortably retained his seat. His sister Valerie Vaz too retained her Walsall South seat.
Alok Sharma, minister for Asia in the Theresa May government, retained his Reading West seat, while Paul Uppal, who lost narrowly in the 2015 election in Wolverhampton South West and was expected to win, lost to the Labour candidate.
Priti Patel, international development secretary, and Rishi Sunak, comfortably retained their Witham and Richmond Yorkshire seats for the Conservative Party. Shailesh Vara, their party colleague, retained his Cambridgeshire North West seat.
In Fareham, Goa-origin Suella Fernandes (Conservative) retained her seat comfortably, while her party colleague, Resham Kotecha, failed to wrest Coventry North West from the sitting Labour MP.
Ameet Jogia, seen as a rising star in the Conservative Party, failed to wrest Brent North from Barry Gardiner (Labour), while Bob Blackman (Conservative) survived a scare from Navin Shah (Labour). Gardiner and Blackman are known to be among the most pro-India MPs in the House of Commons.
Virendra Sharma, who faced some uneasy moments during the campaign, retained his Ealing Southall seat comfortably.
Lisa Nandy (Labour) retained her Wigan seat comfortably but her colleague Rohit Dasgupta lost by a heavy margin in the Conservative stronghold of Hamshire East. Seema Malhotra (Labour) retained her Feltham and Heston seat comfortably.
Overall, the election resulted in the most diverse Parliament in British history, with 51 MPs from ethnic minority communities (including the 12 of Indian-origin), compared to 41 in the last Parliament.
Of the 51 non-white MPs in the new Parliament, 31 are from the Labour Party which has a total of 261 MPs (11%), while 19 are from the Conservative Party which has a total of 315 MPs (6%). The Liberal Democrats have one ethnic minority MP - Layla Moran in Oxford West and Abingdon - out of a total of 12 MPs (8%) .
Sunder Katwala, director of the think tank British Future, said: "The 2017 Parliament will be the most diverse ever, with 10 new ethnic minority MPs taking the total of non-white parliamentarians to 51. Thirty years on, that tells a positive story about integration since the breakthrough election of 1987.
"The Conservatives had hoped to build on progress made under David Cameron and even to edge ahead of Labour on minority representation. But instead they are once again left behind, after a disappointing night for Theresa May and a failure to select enough candidates from the black and ethnic minority communities."