Hafiz Saeed's JuD to contest Pakistan elections on dormant party's platform
Hafiz Saeed said last year that the decision to field his party – which had been placed in an anti-terror watch list in February this year – in the political arena was aimed at helping to "highlight the Kashmir cause internationally."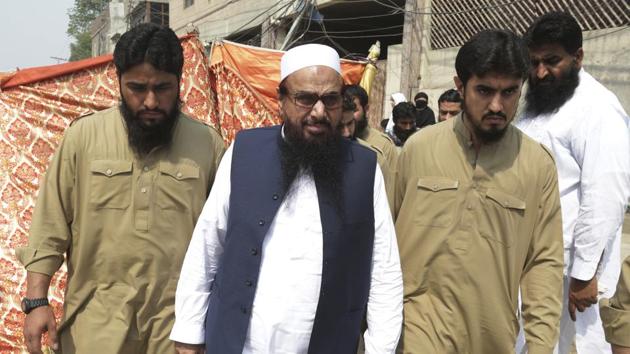 Updated on Jun 02, 2018 11:04 PM IST
Mumbai terror attack mastermind Hafiz Saeed's Jamaat-ud-Dawa will contest the July 25 general elections in Pakistan on the platform of Allaha-u-Akbar Tehreek, a dormant political entity, as the group's Milli Muslim League party has not been registered.
JuD, a front for the Lashkar-e- Taiba, launched MML in 2017 but it was not registered by the Election Commission of Pakistan.
Now the group has decided to contest on the platform of AAT, which has a registration with the Election Commission.
A senior member of the JuD told reporters on Saturday that the AAT "was a kind of dormant party registered by a citizen with the name of Ehsan.
"There are several such parties registered with the ECP and such an arrangement is made ahead in the general elections if any mainstream party or organisation faces any issue or complication."
"Since the Milli Muslim League failed to get registered with the ECP, it is going for this arrangement (contesting the upcoming polls on AAT platform)," he said.
MML president Saifullah Khalid will make a formal announcement regarding this, he added.
The AAT's election symbol is a chair. The JuD member said "Now the JuD/MML candidates will contest on the chair symbol across the country."
He said the MML has hardly any chance of getting registered with the ECP as now the election schedule and election symbols have been finalised.
The JuD also has the option to support the Mutahidda Majlis Amal (MMA), an alliance of mainstream religious parties of the country. "But Saeed chose to contest independently," the member said.
Saeed said last year that the decision to field his party – which had been placed in an anti-terror watch list in February this year – in the political arena was aimed at helping to "highlight the Kashmir cause internationally."
Close Story