India can take steps for some rapprochement with Pakistan, says US
US state secretary reiterates Trump warning that Islamabad must do more to contain terrorist groups or it could lose the status of a non-Nato ally of America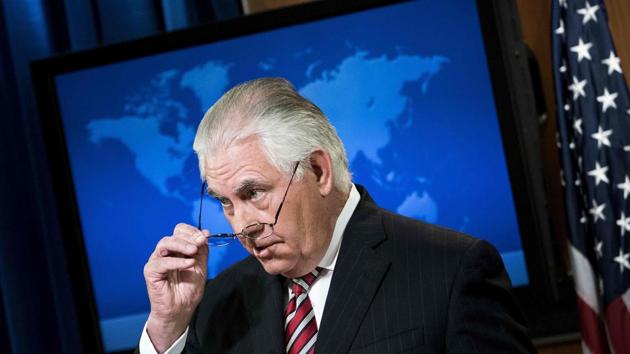 Updated on Aug 23, 2017 09:41 AM IST
Hindustan Times, Washington |
, Washington
Yashwant Raj
The United States has said it expects India to take steps towards "rapprochement" with Pakistan for the larger goal of stability in the region, while also warning Islamabad that it risks losing military aid and the non-Nato-ally status if it did not act against terrorism originating from its soil.
"India and Pakistan, they have their own issues that they have to continue to work through," secretary of state Rex Tillerson told reporters on Tuesday in response to a question if Pakistan could withstand the pressure being brought on it by a new strategy signalled by President Donald Trump in a statement a day earlier. "But I think there are areas where perhaps even India can take some steps of rapprochement on issues with Pakistan to improve the stability within Pakistan and remove some of the reasons why they deal with these unstable elements inside their own country."
The secretary did not spell out those areas or issues.
The secretary of state warned Pakistan that its status as a non-NATO ally and other financial support and military aid was also on the table, it could lose as the cost of not doing enough to shut down terrorist sanctuaries on its soil. "We have some leverage," Tillerson said, "in terms of aid, their status as a non-NATO alliance partner -- all of that can be put on the table."
Asked if going after the enemy in Afghanistan could include US strikes in Pakistan, Tillerson said, "I'm not going to comment on what it could include, but the President has been clear that we are going to protect American troops and servicemen. We are going to attack terrorists wherever they live, and we have put people on notice that if you are harboring and providing safe haven to terrorists, be warned. Be forewarned."
Announcing the region-based strategy for ending the war in Afghanistan, which is the longest in American history at 16 years, the president had signalled a marked toughening of US position on Pakistan's "safe havens" for terrorist outfits, and a larger role for Indian in stabilising Afghanistan through stepped up development and economic assistance.
The president had not referred to India-Pakistan bilateral relations at all, and the problems therein, disappointing those who had during the review process suggested the US could use the new strategy to push India and Pakistan to resume talks on Kashmir, a potentially dangerous flashpoint in a nuclear neighbourhood.
Tillerson had also not brought up India and Pakistan in his own remarks on the president's speech. "India will be an important partner in the effort to ensure peace and stability in the region, and we welcome its role in supporting Afghanistan's political and economic modernization,'' he had said.
There was no reference to India-Pakistan ties or the word "rapprochement" in the readout of his conversations with Indian external affairs minister Sushma Swaraj, Pakistani Prime Minister Shahid Khaqan Abbasi and Afghan Foreign Minister Salahuddin Rabbani ahead of the president's remarks Monday.
Close Story