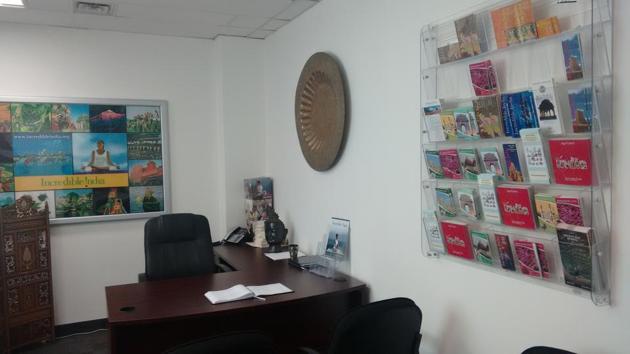 India Tourism office in Toronto shuts down after 58 years of operation
This is part of a larger rationalisation of India Tourism's operations globally.
UPDATED ON MAY 01, 2018 08:55 PM IST
Employees at the office of India Tourism in midtown Toronto received an unexpected communication in mid-March: After nearly 58 years of serving as a bridge between Canada and India, the operation was being terminated.
By the end of the month, as directed by the Ministry of Tourism, all functions of the office ceased, including those for promoting India as a destination for Canadians, as the office has done with advertising in travel supplements of major dailies, on cabs and on public transit for many years.
By the end of April, the office was piled with packing boxes, with artefacts that were on display in Toronto readied to be shipped.
The sudden announcement was a bit of a shock to those in the travel and hospitality business, some of whom used to coordinate with the tourism office. One person said he was "disappointed" that this link was being severed, though he would not speak on the record since he continues to have dealings in both countries. India Tourism has had a presence in Canada since 1960 but with this exit, that will come to an end.
Travel between the two countries has grown substantially in recent years. In 2011, the number of Canadians visiting India was at 259,017 and the provisional figures for 2017 show the number has increased to 338,925. Similarly, Indians departing for Canada increased from 139,213 to 190,565 during the same period.
The functions of the India Tourism office in Toronto, its sole presence in Canada, will move to New York, which will serve as the North American hub and handle matters like representing India at travel events across Canada. The office in Los Angeles is also being shuttered.
This is a worldwide cost-cutting and rationalisation measure, since multiple other offices in Paris, Milan, Amsterdam, Sydney and Johannesburg are also being closed. Frankfurt will serve as the European hub, while a new Moscow office will come into existence, and the offices in Singapore and Dubai will also function as regional hubs.
Meenakshi Sharma, additional director general, Ministry of Tourism confirmed moving the Toronto office to New York.
"It's a part of our restructuring exercise. We feel that our office in New York will cater to our needs in Toronto," she said, adding that such restructuring has been done in other countries as well.
Close