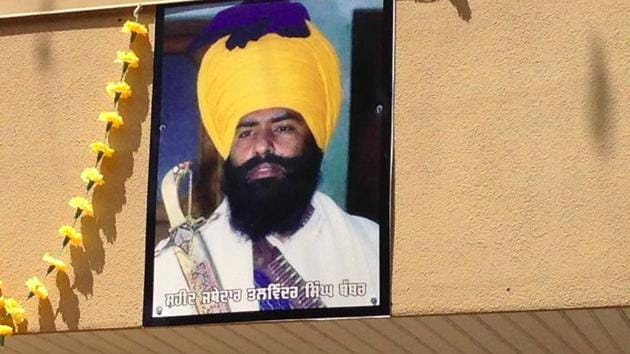 Jagmeet Singh criticised for glorifying Khalsa chief accused of 1985 AI bombing
Jagmeet Singh, leader of Canada's New Democratic Party, was asked repeatedly during an interview to disavow the practice of honouring Babbar Khalsa International chief Talwinder Singh Parmar.
UPDATED ON OCT 05, 2017 07:16 AM IST
Newly-minted leader of the New Democratic Party (NDP) Jagmeet Singh has already attracted controversy with his refusal to condemn the practice at some Canadian gurdwaras of displaying portraits of a man considered the "mastermind" of the Air India flight 182 terrorist bombing in 1985 that claimed 329 lives.
Asked repeatedly during an interview on national broadcaster CBC to disavow this practice of honouring Talwinder Singh Parmar as a "shaheed" or martyr, Singh avoided addressing the specific issue though he described the Kanishka bombing as a "heinous massacre".
"I don't know who's responsible (for the Air India bombing) but I think we need to find out who's responsible, we need to make sure that the investigation results in a conviction of someone who is actually responsible," Singh said.
This reluctance to denounce such glorification has deeply "disappointed" the families of those who perished in the bombing that was blamed on the pro-Khalistan Babbar Khalsa militant group. There were 268 Canadian citizens among the dead and Inder Singh Reyat was the only person convicted in the case related to the bombing.
Bal Gupta, chair of the Air India 182 Families' Association, said of the displaying of such portraits: "The whole thing is glorifying terrorism and terrorists, it amounts to promoting terrorism."
On Jagmeet Singh staying mum on the matter, Gupta commented, "He should have disowned the glorification of terrorism, even suspected terrorism or promoters of terrorism. He should have clearly said that, but he has every right to his opinion."
Gupta's wife Ramwati was among the victims of the terrorist attack.
Gupta, who lives in Toronto, watched the interview and was "disappointed" at Singh's non-reaction. Referring to the host of the CBC programme on which Singh appeared, Gupta said, "I think Mr (Terry) Milewski did a good job to put him on the spot."
Following the interview, Milewski tweeted, "New NDP leader refuses to denounce display of 'martyr' posters of Air India bomber."
On Sunday, Singh became the first person of Indian and Sikh heritage to be elected leader of one of Canada's three largest national political parties. Singh, who was denied a visa by India in 2013, will lead the NDP's campaign for the federal election to be held in October 2019.
Commenting on the issue, Shuvaloy Majumdar, Munk Senior Fellow at the Macdonald-Laurier Institute in Ottawa said, "Silence speaks volumes. He sidestepped the question three times, which is unconscionable given that this is the biggest terrorist incident that Canada has experienced."
Majumdar said this issue and those related to it will "continue to plague" Singh as he undertakes his campaign to become the next prime minister of Canada. "Federal leaders have a moral obligation in Canada to condemn terrorism in all forms unequivocally and give no oxygen to the idea that there is legitimacy behind the Khalistan movement," he argued.
Parmar was killed in Punjab in a shootout with security forces in 1992. The Babbar Khalsa International chief was considered the key person behind the bombing at the trial and by a Canadian commission of inquiry into the Kanishka tragedy, though he was never convicted by a court in Canada.
Close