Kansas shooting: Hero Ian Grillot says Indian he saved is his new best friend
Mar 15, 2017 09:14 AM IST
It was supposed to be just another evening for Ian Grillot. But after the Kansas City bar shooting, the 24-year-old is a hero and says he lunged to save two Indians because it was the right thing to do.
It was supposed to be just another evening for Ian Grillot who had walked into his favourite bar to unwind and catch the local basketball game.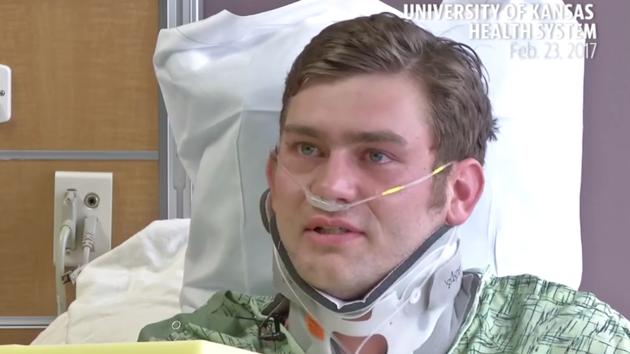 Instead, the 24-year-old is now firmly in the spotlight after getting wounded while trying to save two Indians from gunfire.
As shots rang through the suburban Kansas City bar on Thursday, Grillot ducked behind a table and when he thought the gunman was out of bullets, he lunged at the man.
But as the Kansas City Star reported, the man had still one round left and shot Grillot through the arm and chest.
"I guess I miscounted," Grillot said in a video released by the University of Kansas Health System, as reported by the newspaper.
Hours later, US prosecutors charged 51-year-old Adam Purinton with murder for an attack that some witnesses said was racially motivated. Srinivas Kuchibhotla, 32, died while Alok Madasani, 32, and Grillot are hospitalised and are in stable condition, police said.
Grillot said in the video that he wasn't really thinking when he tried to save the two Indians from the bullets.
"It was just, it wasn't right, and I didn't want the gentleman to potentially go after somebody else," the Kansas City Star quoted him as saying.
The newspaper talked to locals who said Grillot was known to defuse tense situations and it was natural for him to step up after Purinton allegedly confronted the two Indians and yelled at them, "Get out of my country", before opening fire.
"He tried standing up for two people who were being wrongly bullied… We appreciate all of the prayers, love, and support in this difficult matter," Grillot's sister posted on her Facebook profile, as quoted by the newspaper.
But despite the harrowing circumstances, Grillot told the newspaper he was thrilled to see Madasani standing in his doorway at the hospital.
"It just put the biggest smile on my face," Grillot said in the video. "I'm just very grateful that one of the gentlemen is fine and alive. It's terrible what happened to his friend. But I think he was watching over us last night."
He said he considered the Indian his new "best friend". A GoFundMe page created for him raised more than $87,000.
"I was just doing what anyone should have done," Grillot told the newspaper. "It's not about where he's from, or ethnicity. We're all humans."