Prince William will break this Valentine's Day tradition, Kate Middleton jokes
Feb 02, 2023 04:10 PM IST
Kate Middleton News: The seller asked Kate Middleton, "William will be buying you some roses?"
Kate Middleton joked that her husband Prince William will not be adhering to a certain Valentine's Day tradition this year. Making the comments during a tour of Kirkgate Market in Leeds as she launched her early years campaign Kate Middleton said she didn't think Prince William would be buying her flowers for Valentine's Day.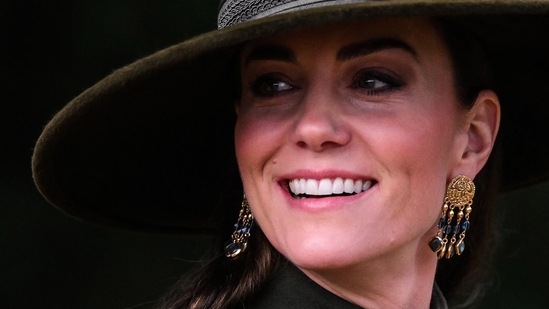 Read more: Princess Diana's letters to friends during divorce from King Charles up for sale
As Kate Middleton was meeting stall holders at the market, she stopped at florist Neil Ashcroft's business. The seller asked Kate Middleton, "William will be buying you some roses?" and offered her a discount, The Mirror reported.
"I suggested William will be buying her roses and she said, 'I don't think he will do'," the seller said. As Kate Middleton embarked on her landmark project, Shaping Up, which focuses on the importance of a child's formative years of life, she said, "Our early childhood, the time from pregnancy to the age of five, fundamentally shapes the rest of our lives. But as a society, we currently spend much more of our time and energy on later life.
Read more: Is Harry lying? Princess Diana didn't want to shift from UK, her ex-butler says
"Today, the Royal Foundation Centre for Early Childhood is launching a new campaign, Shaping Us, to raise awareness of the life-changing impact we can have when we build a supportive, nurturing world around children and those who care for them," she added.
Read more: Prince Harry, Meghan did not expect 'negative pushback' over 'Spare' but they…
Kate Middleton also said that Covid has led to "massive challenges" for children, saying "They haven't had the opportunities that the film shows are needed. Creative play is so fundamental for the foundations for life. To be able to form relationships through play is really vital to break down some of the barriers. But, also, it's a way of self-expression too."