Khalistani movement in Canada sees sudden resurgence
Updated on Jun 01, 2017 08:16 PM IST
Separatist and hardline groups are organising events, many focused on an independence referendum, in cities across Canada and North America.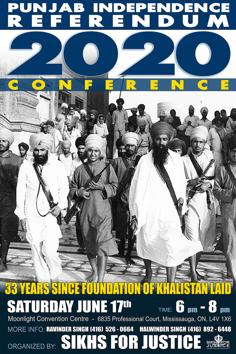 Energised by a series of events that bolstered a flagging cause, pro-Khalistan groups in Canada are planning to amplify their separatist message in the months ahead by organising a referendum campaign.
The effort will start with the Punjab Independence Referendum 2020 Conference to be organised by the hardline activist group Sikhs for Justice (SFJ) at the Moonlight Convention Centre in Mississauga, a suburb of Toronto, on June 17.
SFJ plans to hold similar events in other North American cities, including Houston, Dallas and Philadelphia, culminating in a "big scale" declaration-centred gathering in New York this August, according to SFJ's legal advisor Gurpatwant Pannun. "In all the major cities, we are going to start doing the conference to make the Sikh community aware and garner support for the referendum," Pannun said.
He said one of the group's objectives is to "file a case for Punjab independence in United Nations".
This renewed movement abroad for a separate Khalistan comes a couple of months after pro-Khalistani elements appeared to be losing traction.
But that changed as several developments occurred in succession. One of those that may have energised the movement is the election of Captain Amarinder Singh to head a Congress government in Punjab. While the Liberal Party dispensation in Ottawa and its provincial outfits have developed a comfortable working relationship with the Narendra Modi government in New Delhi, the Congress still angers hardliners who control Sikh organisations and gurdwaras, through which Canada's ruling party canvasses for votes within the community.
Canadian Prime Minister Justin Trudeau's presence at a Khalsa Day nagar kirtan in Toronto was particularly troubling for India, since such events have traditionally been known to have a strong Khalistani component.
As Pannun said, "Over the years the message has not been diluted. This is supposed to be a Khalistan Day, that we want a separate country. So there shouldn't be any doubt why a Khalistan float should be there or pictures of Jarnail Singh Bhindranwale should be there."
Adding to the volatile mix was the honouring of two of the main proponents of a motion in the Ontario Assembly that described the 1984 anti-Sikh riots as "genocide."
While Indian diplomats doubt the lasting power of this resurgent movement, there is no doubt that they will find the summer of 2017 getting warmer even as they try to cool temperatures by re-engaging the Sikh community in the country.
That process has begun and will proceed with outreach activities such as India's high commissioner Vikas Swarup attending the 350th birth anniversary celebrations of Guru Gobind Singh at a gurdwara in Surrey, a suburb of Vancouver, next month.
Personalise your news feed. Follow trending topics