Maldives to support India's candidature to UNSC for term 2028-2029
ANI | | Posted by Lingamgunta Nirmitha Rao
Jan 23, 2023 07:20 PM IST
The decision to support India was taken following the visit of External Affairs Minister S Jaishankar to the Maldives on January 18 and 19.
Maldives has decided to support India's candidature to a non-permanent seat of the United Nations Security Council for the term 2028-2029, the election for which is scheduled to be held during the eighty-first session of the United Nations General Assembly in June 2027.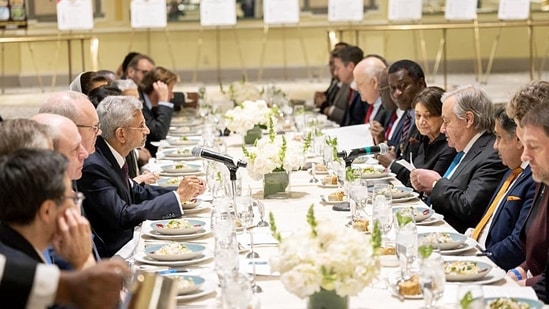 The decision to support India was taken following the visit of External Affairs Minister S Jaishankar to the Maldives on January 18 and 19.
Also Read | India hails UNSC's move to list Abdul Rehman Makki as global terrorist
Maldives' Foreign Ministry said in a statement that the country's strong support for India is rooted in the strong partnership and close bonds of friendship that exists between the two countries.
"India has continuously demonstrated strong and effective leadership in maintaining international peace and security. India has also been a strong proponent of the values and principles enshrined in the United Nations Charter," the statement said.
"The Government of Maldives is confident that India will be a voice for all developing countries on the Security Council, and will continue to make meaningful contributions towards global discourse on peace and security in the years to come," it added.
Also Read | Hit for global terror in UNSC, Pak personally targets PM Modi
During his visit to the Maldives, EAM Jaishankar called on President Ibrahim Mohamed Solih and held discussions with the Minister of Foreign Affairs Abdulla Shahid.
The visit saw the signing of agreements related to the bilateral development cooperation besides ground-breaking, inauguration and handing-over and launch of a number of key India-supported projects that will contribute to the socio-economic development of the Maldives.
Jaishankar inaugurated the India-funded Community Centre in Foakaidhoo with Maldives Foreign Minister Abdulla Shahid.
The minister had said that the bilateral development partnership is creating quality social infrastructure in Maldives, spread over 16 atolls and 36 islands and the joint efforts benefit women and youth development and promote sports.
During the visit, Jaishankar joined Maldives President, ministers and local leaders at the ground-breaking ceremony of Hanimaadhoo International Airport Development Project.
This project will bridge the gap between the people of Northern Maldives and the rest of the world and bring the people of the two countries together.
Jaishankar had said that signing of the contract for the expansion of the MIFCO (Maldives Industrial Fisheries Company Limited) facility will also be a major milestone that will augment livelihood opportunities.
"Our focus on capacity development has also been seen in the training programmes which have benefited more than 900 Maldivian officials last year alone," Jaishankar had said in a tweet.