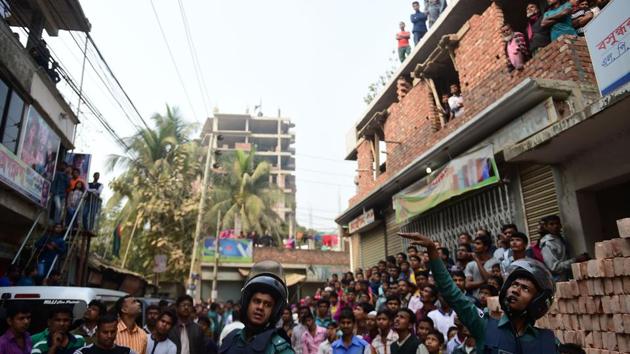 Woman, teen boy blow themselves up during police raid on Dhaka militant hideout
Police said three militants believed to be operatives of neo-Jamaatun Mujahideen Bangladesh (neo-JMB) were inside the building.
By PTI, Dhaka
UPDATED ON DEC 24, 2016 04:40 PM IST
A woman and a teenage boy blew themselves up in Dhaka on Saturday when Bangladesh police's elite counter-terrorism unit raided their three-storey building in Ashkona area of the capital.
Heavily-armed militants, belonging to an Islamist group blamed for the deadly cafe attack, were hiding inside the building. Home minister Asaduzzaman Khan Kamal told the media that a woman and a teenage boy have blown themselves up.
Earlier four persons, including two woman and as many children, came out of the building and surrendered to law enforcers, bdnews reported.
A minor girl, who suffered splinter injuries when the woman killed herself, has been taken to the hospital.
Sounds of several explosions and gunshots were heard in the areas since afternoon. Law enforcers lobbed several rounds of tear gas canisters targeting the building after the blast, reports our staff correspondent covering the raid from the spot.
Read | Bangladesh arrests two Islamists blamed for cafe attack
"The inmates have vowed to fight us with grenades... we are repeatedly asking them to give up," Dhaka's police commissioner Asaduzzaman Mian told reporters.
Police said the militants are believed to be the operatives of neo-Jamaatun Mujahideen Bangladesh (neo-JMB) which was behind the July 1 terror attack on the Dhaka cafe in which 22 people, including 17 foreigners, were killed.
Another official at the scene said one of the two women who surrendered was the wife of a slain renegade ex-army major who was killed on September 2 this year in a police encounter during a nearly identical raid at Dhaka's Mirpur area. The other woman was the wife of a neo-JMB leader.
Read | Militant hideout raided in Dhaka, members of cafe attacker group holed-up
Close