Money, medicines, increased maternity leave if you make more babies, says China
China entirely did away with its controversial and strict one-child policy in 2016 after implementing it since the late 1970s.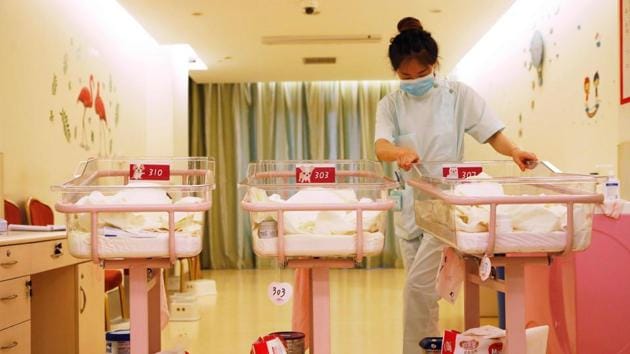 Updated on Jul 19, 2018 06:08 PM IST
Hindustan Times, Beijing |
Sutirtho Patranobis
A worried China is handing out financial subsidies and extended paid maternity leave to push couples to have a second child as the country continues to grapple with falling births despite the government doing away with the one-child policy in 2016.
As many as 31 provinces, regions and municipalities – nearly all of China – are increasing the mandated 98 days of maternity leave to a range between 138 days and 158 days, reported the state-controlled website, thepaper.cn.
Financial allowances and medical services are also being included as incentives for the couples in some of the regions.
"New mothers will also be paid during their maternity leave. And fathers have also been granted entitlements to paternity leave ranging from 15 to 30 days on average," the report said.
"In Shihezi, a city in the Xinjiang Uygur Autonomous Region, mothers who have a second child will be offered subsidies worth up to 1,000 yuan. The city will also provide second-child families with subsidies for baby milk formula for up to three years," it added.
Similarly, Xiantao in central China's Hubei province is providing subsidised reproductive medical services to second-time mothers.
That might not be enough, experts told the state media, as China's fertility rate in 2016 was 1.7, considered low.
The government, for one, has to remove the penalties – called "social maintenance fees" – on those who have three or more children. Such existing penalties create the misconception among people that more birth would still harm the country's development, demographer He Yafu said.
"The government should immediately abandon 'social maintenance fees,' which are used to fine people for violating the family planning policy," he said, adding that similar fines against civil servants should also be done away with.
China entirely did away with the controversial and strict one-child policy in 2016 after implementing it since the late 1970s. By the time it was withdrawn, the damage to China's demography in the long-run had been done.
A government report published earlier this year said China will face a decrease in the working age population, have to take care of more elderly people and deal with continuing population migration and increasingly diverse family patterns.
By the United Nations' estimates, India is likely to surpass China as the world's most populous country in the next decade. As of 2015, China's population was 1.37 billion while India was around 1.3 billion the same year.
Topics
Close Story
Personalise your news feed. Follow trending topics