More than 2 million Muslims gather for Hajj pilgrimage in Saudi Arabia
Agence France-Presse, Mecca |
Agence France-Presse
Aug 30, 2017 01:50 PM IST
This year sees pilgrims from Shiite Iran return after a hiatus following a diplomatic spat between the Islamic republic and Sunni arch-rival Saudi Arabia.
More than two million Muslims from around the world will start the hajj pilgrimage at Islam's holiest sites Wednesday, a religious duty and an epic multi-stage journey.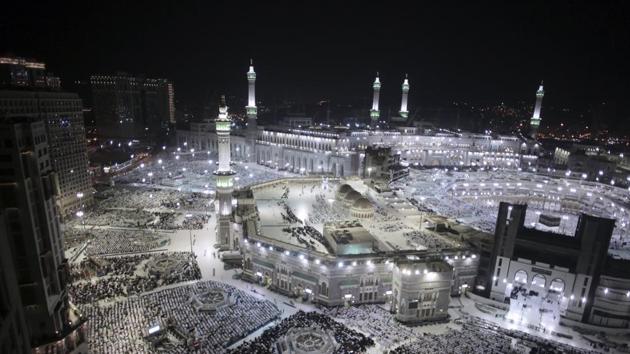 This year sees pilgrims from Shiite Iran return after a hiatus following a diplomatic spat between the Islamic republic and Sunni arch-rival Saudi Arabia.
It also comes with the Gulf mired in political crisis and Islamic State group jihadists under pressure in Iraq and Syria.
Saudi authorities have mobilised vast resources in hope of avoiding a repeat of a deadly 2015 stampede that left nearly 2,300 people dead, including 464 Iranians.
Riyadh and Tehran cut ties months later, after the execution of a Shiite cleric in Saudi Arabia sparked attacks on Saudi diplomatic missions in Iran.
The pilgrimage also comes amid a diplomatic crisis between a Saudi-led bloc of Arab countries and Qatar, accused of supporting extremist groups and being too close to Riyadh's arch-rival Tehran.
A blockade imposed on Qatar since June 5 has seen sea and air links shut down, preventing many Qataris from making hajj, although Riyadh relaxed entry restrictions across its land border with the emirate two weeks before the pilgrimage.
The colossal religious gathering comes with IS under pressure having lost swathes of territory it controlled in Iraq and Syria. But the group continues to claim attacks in the Middle East and Europe.
Saudi authorities say they are ready for any eventuality.
Interior ministry spokesman General Mansour al-Turki said more than 100,000 security personnel had been deployed at various sites along the hajj route.
- 'New emotions every time' -
After donning the simple garb of the pilgrim, the faithful gather in the esplanade of Mecca's Grand Mosque with its seven minarets.
There, they perform a ritual walk seven times around the Kaaba, a black masonry cube wrapped in a heavy silk cloth embroidered with Koranic verses in golden embroidery.
The shrine is the point towards which Muslims around the world pray.
Pilgrims then head for Mina, five kilometres (three miles) further east, where hundreds of thousands of people will gather before setting off on Thursday at dawn to climb Mount Arafat, the pinnacle of the pilgrimage.
Tidjani Traore, a public service consultant from Benin, said he was preparing for his 22nd pilgrimage at the age of 53.
"Every time, there are new emotions," he said. "There are new innovations for organising and hosting the pilgrims. Now, for example, the tents are air-conditioned."
Saudi authorities have placed misting fans on the esplanade of the Grand Mosque to take the edge off the intense heat.
On the eve of the first rites of the pilgrimage, the walkways thronged with people and the smell of musk wafted through the air.
Sitting in the shade of trees or reinforced concrete bridges, the faithful waited patiently for the next call to prayer. Others continued their march, protected by a prayer mat or a small umbrella fixed on the head with an elastic band.
Several times throughout the day, well-run teams of employees, mostly Asian, cleaned the esplanade with jets of water.
As the hour for prayer arrived, a young woman sat at a table in an ice cream shop and prayed, her hands crossed on her knees.
A few paces from the Kaaba, Egyptian pilgrim Fatiya Taha could not hide her joy.
At 67 the oldest in her group, she sat in her wheelchair in Islam's most holy spot.
"I've been looking forward to this pilgrimage for four years," she said.
Exciting news! Hindustan Times is now on WhatsApp Channels
Subscribe today by clicking the link and stay updated with the latest news!"
Click here!
Get Latest
World News
along with
Latest News
from
India
at Hindustan Times.