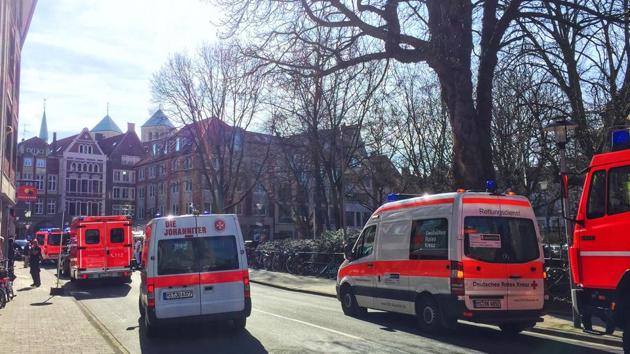 Highlights | Van plows into pedestrians in German city of Muenster, killing two; driver shoots himself
The driver who ploughed a van into crowds in Muenster before shooting himself dead on Saturday is a German national with a history of psychological problems, several media outlets reported. Here are the highlights.
Berlin | By Agencies
UPDATED ON APR 07, 2018 11:33 PM IST
At least three people died on Saturday when a vehicle ploughed into busy cafe and restaurant terraces in the German city of Muenster before the driver shot himself dead.
Images on social media showed smashed and upturned tables and chairs strewn accros the pavement outside an eaterie in the centre of the picturesque medieval city.
At least 20 people were injured, six of them seriously, according to police, while media reports said the driver had been behind the wheel of a delivery van.
Here are the highlights:
11pm: The man presumed to have driven a van into a Muenster restaurant was a German with psychological problems, the Sueddeutsche Zeitung newspaper reports in its online edition.
The man had no terror background, the newspaper added, citing information it had obtained but giving no specific source.
10:15pm: Mayor Markus Lewe tells reporters that "all of Muenster is mourning this horrible incident. Our sympathy is with the relatives of those who were killed. We wish the injured a quick recovery."
9:55pm: The death toll increases to 4 in the Muenster incident, the German interior ministry is quoted as saying by news agency DPA.
A ministry spokeswoman says that the toll includes the driver. Local police had said earlier that he "shot himself" after driving into the crowd and leaving about 30 people injured.
9:35pm: Driver of the van shot himself to death after crashing into crowd, say police.
9:30pm: German police says 3 killed, 20 injured after vehicle crashes into crowd in Muenster.
9:10pm: Police say the driver of the van that ploughed into a group of people in Muenster killed himself.
9:05pm: German police say not looking for more suspects in Muenster: Reuters
9pm: The incident took place near a popular restaurant in the city's medieval city centre, according to DW News.
8:45pm: The online edition of Spiegel magazine says German authorities were "assuming" the incident was an attack, though there was no immediate official confirmation.
8:35pm: Police have asked people not to speculate and avoid the area of the accident.
Close