Sharif picks brother Shehbaz as successor, ex-minister Khaqan Abbasi is interim Pakistan PM
Updated on Jul 30, 2017 09:05 AM IST
Pakistan's ousted Prime Minister Nawaz Sharif nominated his brother Shehbaz as successor in a speech to his party, and said on Saturday he would like close ally Shahid Khaqan Abbasi to be interim prime minister.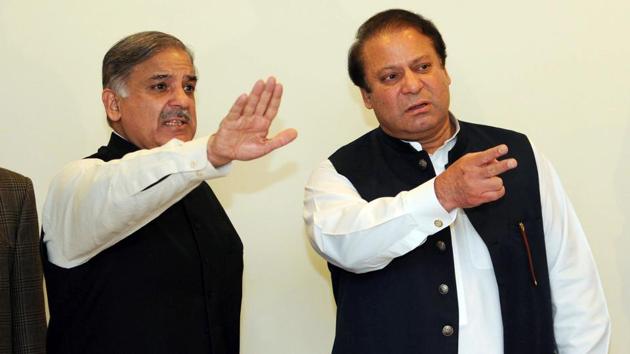 Hindustan Times, Islamabad/New Delhi |
Imtiaz Ahmad and Rezaul H Laskar
Former Pakistan prime minister Nawaz Sharif on Saturday named his younger brother Shehbaz Sharif as his successor following his disqualification by the Supreme Court, ensuring the power centre of the ruling PML-N party remained within the family.
Shehbaz, currently chief minister of the most populous and prosperous province of Punjab, will have to be elected to the National Assembly or lower house of Parliament to take over as the premier. Sharif said senior PML-N leader and leading businessman Shahid Khaqan Abbasi would serve as the interim prime minister.
"I have given up my position and someone has to take it up. After much thought and discussion…after me, if you support it, I choose Shehbaz Sharif sahab," Sharif told a meeting of the PML-N parliamentary party that was beamed live on television.
"Shehbaz sahab will need some time, 50 to 55 days, and he will have to contest elections…For the interim period of one-and-half to two months, I name Khaqan Abbasi (for the post of prime minister)," he said in Urdu to loud cheers and applause from the lawmakers.
The decision came a day after the Supreme Court disqualified 67-year-old Sharif for dishonesty in declaring his assets in his nomination papers for the 2013 election. The verdict raised fears of fresh uncertainty in Pakistan ahead of next year's general election amid continued meddling in politics by the powerful military.
Shehbaz, 65, is currently in his third term as chief minister of Punjab. Widely described as a workoholic, he is seen as a better administrator and a doer, but is less charismatic and less popular than Sharif. He also has had a better relationship with the army and sometimes acted as an intermediary between the army and the PML-N.
However, he has struggled with health concerns in recent years, including backbone cancer, and travels abroad several times a year for treatment.
Abbasi, 58, has a master's degree in electrical engineering from the US and worked as an engineer in America and the Middle East in the 1980s. He is the founder and CEO of airblue, one of Pakistan's few private airlines, and held the petroleum and natural resources portfolio in Sharif's cabinet.
A low-key politician, he is considered to be part of Sharif's inner circle and was apparently chosen as he is unlikely to rock the boat.
Sharif has been grooming his daughter Maryam Nawaz as his heir but the Supreme Court also ordered the main anti-corruption watchdog to register a case against the PLM-N chief, his daughter and two sons over the family's offshore assets.
In his speech to the parliamentary party, Sharif lamented that no elected Pakistani prime minister had been able to complete a full term. He added that not everyone in the military favoured martial law.
Sharif, who did not complete any of his three terms as premier, also questioned the Supreme Court's verdict. The court's order stated he was disqualified because he had not declared the salary he was eligible to receive from a UAE-based firm set up by his son, but Sharif said he had not taken any salary from the company.
"See what the world's media is writing about yesterday's verdict…If anyone understands why I was removed, they should explain it to me," he said. He added he was "unafraid" like a soldier on the frontline and would defend the law, Constitution and rule of law.
Sharif said his conscience is clear and he felt proud he was not removed for corruption. "You should be proud that your leader doesn't have the stain of corruption on him," he said.
Sharif has moved out of the sprawling Prime Minister House's in the heart of Islamabad and into the nearby Punjab House. All members of his cabinet have been denotified and their protocol has been removed.
At many public places such as airports and train stations, Sharif's picture has been removed. There were no reports of major disturbances in any city following the Supreme Court's verdict except for some minor skirmishes between workers of different parties in Islamabad.