Nepal, China sign 8 pacts for projects worth $2.4 billion
Hindustan Times, Kathmandu |
Anil Giri
Jun 20, 2018 11:44 PM IST
Among the deals signed are one for a cement manufacturing factory in Nepal, China preparing a detailed project report for the Eastern Tarai of Nepal, and China setting up a fruit industry in Nepal.
Nepal and China on Wednesday signed eight agreements worth US$ 2.4 billion in Beijing during the second day of official visit of Prime Minister KP Oli to China.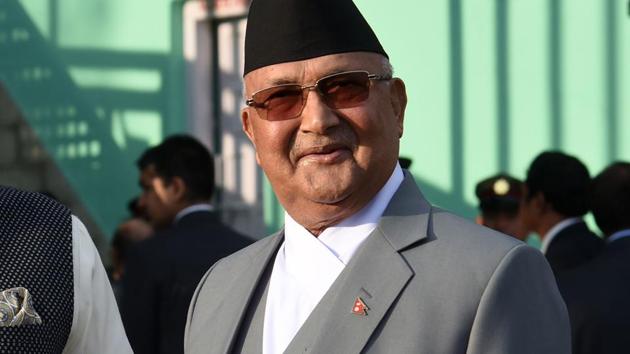 These agreements are reached between the two governments and private sectors of Nepal and China where Chinese investors will put the money on developing hydroelectricity, water resources, cement factory and fruit cultivation and farming.
In the presence of PM Oli and visiting Nepal delegation, the signing ceremony was organised at Nepali Embassy in Beijing. According to the agreements, Huwasin Cement Company will set up a cement manufacturing plant in Nepal that will produce 3,000 metric tones cement on daily basis. This will establish at the cost of NRs 14.40 billion. The factory will provide jobs to 1000 people. Another agreement is about to prepare detailed project report of Eastern Tarai of Nepal. China Communication Construction Company will prepare the DPR of three rivers of eastern Tarai namely Biring, Kamala and Kankai. Similarly Chinese investors will put US $ 46 million for setting up a fruit industry in Nepal including fruit cultivation and farming.
Other deals sealed during the visit are developing 164 MW Kali Gandaki George hydroelectricity project, 40.27 MW Siuri Nyadi hydro electricity project, another 600 MW hydroelectricity project at Marsyangdi River basin and 75 MW Trishuli Galchi hydroelectricity project were signed by the private sectors of Nepal and China worth US $ 2 billion.
Similarly China's OBOR International Business Platform will purchase 200,000 to 500,000 pieces of Nepali pashmina mad by wool, from Nepal. Similarly there will be seperate MoUs and understandings between the two governments on Thursady after the delegation level talks between Oli and Chinese Premier , Li Keqiang. Meanwhile Oli who is in China visit is meeting with Chinese President Xi Jinping later this afternoon in Beijing.