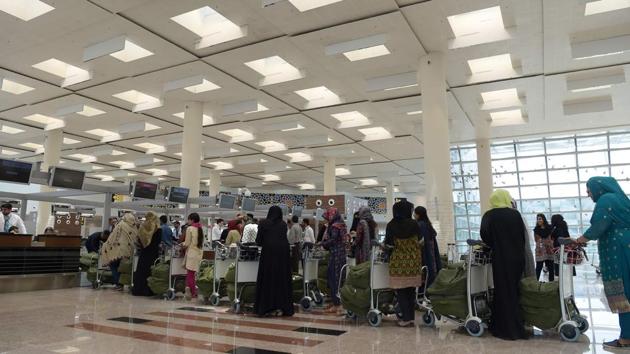 Pakistan's largest airport finally opens in Islamabad after delay of decades
The Islamabad International Airport was conceived in 1984 and land was acquired in Fateh Jang to ease the passenger load at the Benazir Bhutto International Airport.
Hindustan Times, Islamabad | By Imtiaz Ahmad
UPDATED ON MAY 02, 2018 12:02 AM IST
The Islamabad International Airport was finally inaugurated on Tuesday, after years of delays and controversies over kickbacks and substandard equipment.
Prime Minister Shahid Khaqan Abbasi inaugurated the airport, expressing hope that the first greenfield airport of Pakistan would eventually emerge as one of Asia's major aviation hubs after its operationalisation. Spanning over 4,238 acres, the airport consists of a four-level passenger terminal, two runways and parking bays for wide-body aircraft.
A Pakistan International Airlines (PIA) flight landed as part of the inauguration ceremony.
Abbasi said he hoped the new airport was a source of development for the area and help bring trade and employment opportunities for the people of the region.
Using the opportunity to score political points, he commented that development depended on the continuation of the democratic process in Pakistan. "The one and only reason Pakistan strayed from the path of development in the past was that democracy was derailed in the country," he said.
"We saw certain timely benefits in dictatorships, but no nation has ever succeeded without democracy."
Constructed at a cost of more than Rs 100 billion, the IIA is the largest airport of Pakistan and is connected to the twin cities of Rawalpindi and Islamabad.
It is capable of serving nine million passengers and 50,000 metric tonne of cargo every year in its first phase, while the modular design enables expansion to serve up to 25 million passengers per year by 2025.
IIA was conceived in 1984 and land was acquired in Fateh Jang to ease the load at the Benazir Bhutto International Airport.
Civil Aviation Authority official Amir Mehboob told the audience that the current annual turnover of passengers at the old Benazir Bhutto International Airport was about 4.5 million. The number of passengers is growing by 14% annually compared to the national air passenger growth of less than 4%, he added.
So far the name of the airport has not been decided. The prime minister has rejected proposals to name it after former prime minister Benazir Bhutto.
Other proposals were to name the airport after Fatima Jinnah, the sister of Pakistan's founding father Muhammad Ali Jinnah, or after the country's first prime minister Liaqat Ali Khan.
Some quarters have proposed to name it after Abdus Sattar Edhi, the world-renowned social worker who passed away in 2017.
Close