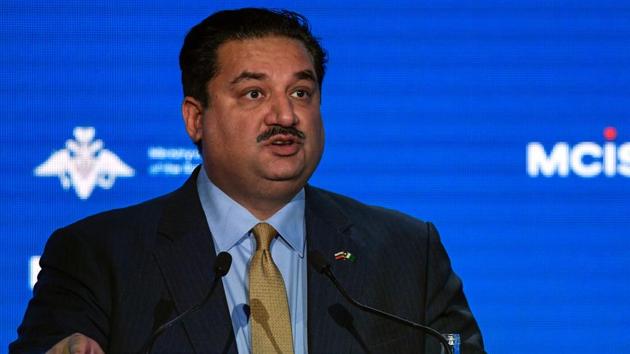 Pakistan says it's in direct talks with Russia for buying air defence systems
Pakistani defence minister Khurram Dastgir Khan talked about increased cooperation with Kremlin which mirrors Pakistan's wider geo-strategic concerns.
Hindustan Times, Islamabad | By Imtiaz Ahmad
UPDATED ON APR 08, 2018 09:35 PM IST
Pakistan is in direct talks with Russia for buying sophisticated military hardware including air defence systems, fighter jets and battle tanks, the country's defence minister has said.
Khurram Dastgir Khan confirmed that Islamabad was interested in buying weapons from Moscow in an interview to the Russian news agency on Thursday, in which he also talked about increased cooperation with Kremlin which mirrors Pakistan's wider geostrategic concerns.
"Air defence system is a different kind of weapon we are interested. We are very much interested in a very wide range of the Russian weapons technology. We are in negotiations (on air defence systems) and once we conclude negotiations, we will be able to announce them," Khan told a Russian publication, according to local media reports.
The minister said Islamabad was interested in acquiring T-90 tanks from Moscow as part of a long-term deal rather than committing itself to a single purchase.
Negotiations for the purchase of Russian Su-35 fighter jets are in their early stages and an agreement in this regard may be reached "in the next few years", he said.
Talking about security issues in South and Central Asia, the defence minister noted that both Pakistan and Russia were interested in a stable and democratic Afghanistan.
"We respect Afghanistan's sovereignty. Stability in Afghanistan is important for Pakistan to be able to develop its own prosperous future, to access the Russian market, for example, by land route. Democratic and stable Afghanistan is in the deep interest of both Russia and Pakistan," the minister stated.
He also lauded recent efforts by the Kremlin to bring stability to Afghanistan. "We are supporting the Russian regional approach to Afghanistan and we hope that not only Russia but also China, Iran and of course the United States can sit together at the table and devise a way in which we can achieve internal peace and reconciliation in Afghanistan," Khan was quoted as saying by Sputnik.
Khan told the Russian news agency that Islamabad was looking forward to enhance defence cooperation with Moscow in all areas, which include procurement of weapons, military training exercises and intelligence sharing.
"In the defence field, we signed a historical and unprecedented Pakistan-Russia defence agreement in 2014. As a result, we have been able to conduct joint exercises."
"Pakistan has purchased Russian Mi-35 helicopters and now we are looking at a much wider range of defence cooperation. In terms of training, Pakistani officers are coming to Russia and Russian officers are going to Pakistani facilities for training," he told reporters.
"We are also now discussing a wider range of military exercises, we are looking at a wider range of military equipment and intelligence sharing," Khan said on the sidelines of the Moscow Conference on International Security.
Close