Pakistan SC cites Indian ruling to uphold death sentence for mentally ill man
Hindustan Times |
, Islamabad
Imtiaz Ahmad
Oct 21, 2016 06:21 PM IST
Pakistan's Supreme Court has cited a judgement by its Indian counterpart to uphold the death sentence given to a mentally ill man suffering from paranoid schizophrenia, prompting an outcry from civil society activists.
Pakistan's Supreme Court cited a judgement by its Indian counterpart while upholding the death sentence given to a mentally ill man suffering from schizophrenia, prompting an outcry from civil society activists.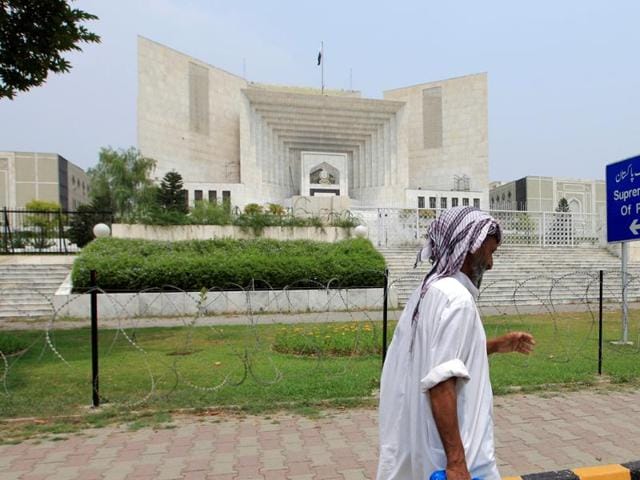 A three-judge bench headed by Chief Justice Anwar Zaheer Jamali issued the order in the case of Imdad Ali, aged around 50 years, who was sentenced to death for the murder of a religious teacher in 2002. His sentence was upheld by all superior courts, including the Supreme Court, and the president rejected his mercy petition.
Stay tuned with breaking news on HT Channel on Facebook.
Join Now
In an order issued on Thursday, the Supreme Court cited the judgment of India's Supreme Court in the 1976 case of Amrit Bhushan Gupta vs the Union of India, which was similar to Ali's case. The Indian convict's mother filed a petition in the Delhi high court, which said her son's execution should be withheld because he was of unsound mind and suffering from schizophrenia.
The Delhi high court and India's Supreme Court dismissed the mother's plea, arguing the convict did not suffer from legal insanity during his trial or at the time the offence was committed.
Pakistan's Supreme Court said a psychiatric disorder such as schizophrenia does not subjugate a death sentence. It observed in its 11-page judgment: "In our opinion, rules relating to mental sickness are not subjugative to delay the execution of death sentence which has been awarded to the convict."
Government doctors certified Ali as being a paranoid schizophrenic in 2012 but the Supreme Court ruled the illness did not fall within its legal definition of mental disorders.
The top court noted that subordinate courts had discarded Ali's plea of mental illness. "Schizophrenia is not a permanent mental disorder; rather it is an imbalance which can increase or decrease depending on the level of stress," it added.
The court further said, "In recent years, the prognosis has been improved with drugs, by vigorous psychological and social managements, and rehabilitation. It is, therefore, a recoverable disease, which in all the cases, does not fall with the definition of 'mental disorder' as defined in the Mental Health Ordinance, 2001."
Ali's wife Safia Bano had approached the Supreme Court, claiming her husband was insane and his death sentence should be delayed till he received treatment so that he could write his will.
The judgment was criticised by civil society activists, who said it went against all international norms of justice.
The independent Human Rights Commission of Pakistan (HRCP) protested against the judgement. A spokesperson said mental illness and insanity were reasons for a court to not declare a person guilty of a crime. "This decision will have far reaching implications," HRCP said.
Earlier, the watchdog Justice Project Pakistan (JPP) too filed an appeal against the Lahore high court's order dismissing pleas that Ali could not be executed because of his mental illness. JPP argued the court should look into Ali's medical condition and extenuating circumstances that had aggravated his mental illness during his lengthy time on death row.
Ali hails from Burewala district of Punjab province. After warrants were issued for his execution on July 26, his wife filed a writ petition in the Lahore high court, which rejected her plea on August 23. She then approached the Supreme Court with the same plea but the three-judge bench upheld the death sentence.