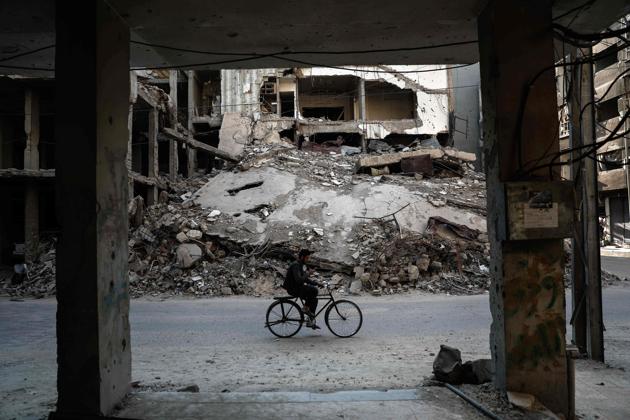 Relative calm in Syrian safe zones after deal implemented
There were no reports of casualties after the plan hammered out by Russia, Turkey and Iran kicked in on Friday midnight.
Beirut | By Associated Press
UPDATED ON MAY 11, 2017 06:28 PM IST
Relative calm prevailed on Saturday in wide parts of war-ravaged Syria despite sporadic violations and clashes after a deal to set up "de-escalation zones" in mostly opposition-held areas went into effect, opposition activists and government media outlets said.
There were no immediate reports of casualties after the plan hammered out by Russia, Turkey and Iran — the latest attempt to bring calm to the country — kicked in at midnight on Friday.
The establishment of safe zones is the latest international attempt to reduce violence amid a six-year civil war that has left more than 400,000 dead, and is the first to envisage armed foreign monitors on the ground in Syria. The United States is not party to the agreement and the Syrian rivals have not signed on to the deal. The armed opposition, instead, was highly critical of the proposal, saying it lacks legitimacy.
Details of the plan must still be worked out over the next several weeks. There were limited reports of bombing in northern Homs and Hama, and the southern province of Daraa, areas expected to be part of the "de-escalation zones," activists said. There were no immediate reports of casualties.
It is not clear how the cease-fire or "de-escalation zones" will be enforced in areas still to be determined in maps to emerge a month from now.
Russian officials said it will be at least another month until the details are worked out and the safe areas established. Syria's government has said that although it will abide by the agreement, it would continue fighting "terrorism" wherever it exists, parlance for most armed rebel groups fighting government troops.
The armed opposition delegation to the talks in the Kazakh capital of Astana said in a statement that the truce should include all Syria and not just specific areas. It said some maps of the "de-escalation zones" that were released are not accurate and will not be accepted because the armed opposition did not negotiate them.
Still, opposition activists in southern, central and northern Syria told The Associated Press on Saturday the situation is by far much better than previous days, with no airstrikes reported.
Close