Starting to develop much better relationship with Pakistan: US President Trump
Press Trust of India, Washington |
Press Trust of India
Oct 14, 2017 03:38 PM IST
US President Donald Trump thanked Pakistani leaders for cooperating with the US on many fronts.
US President Donald Trump has said he has started to develop a much better relationship with Pakistan, a day after Pakistani forces rescued an American-Canadian family from the Haqqani terror network.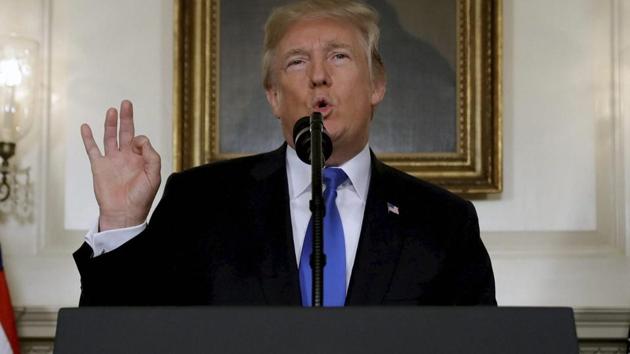 American citizen Caitlan Coleman and her Canadian husband Joshua Boyle along with their three children were rescued from the Haqqanis on Thursday after an operation by Pakistani forces based on intelligence from the US authorities.
The couple were kidnapped in 2012 in Afghanistan while on a backpacking trip. Their three children were born while the pair was in captivity.
Trump had slammed Pakistan for its continued support to terrorist groups and warned Islamabad of consequences if it continues to do so while announcing his Afghan and South Asia policy in August.
The president thanked Pakistani leaders for cooperating with the US on many fronts.
"Starting to develop a much better relationship with Pakistan and its leaders. I want to thank them for their cooperation on many fronts," Trump said in a tweet yesterday.
Democratic Congressman Ted Lieu said: "On this I agree" with Trump.
"Pakistan is a critical ally in fighting against terrorists," he said in a tweet.
Earlier in the day, US vice president Mike Pence also praised Pakistan in helping the US secure the release its citizens.
Pence's comments on Pakistan came as he listed out some of the key achievements of the Trump administration at the international stage.
"The president is achieving real results on the international stage, as well," he said.
While some critics engage in empty rhetoric and baseless attacks, thanks to the president's leadership, ISIS is on the run, North Korea is isolated as never before, and our NATO allies are doing more to pay their fair share for our common defence, Pence said.
"Just this week, Pakistan took an important step to answer the president's call to do more in the fight against terrorism, as they helped secure the release of an American family that had been held hostage for more than five years," the vice president said.
US defence secretary Jim Mattis is scheduled to visit Pakistan soon, followed by a visit of Secretary of State Rex Tillerson.