Toothbrush holder in bathroom turns out to be a jar from Indus Valley civilisation
Nov 29, 2018 07:44 PM IST
Antiquities expert James Brenchley said the object was an Indus Valley civilisation pottery jar dating back to 1900 BC.
There are many priceless Indian items at British museums, with the royal family, and in homes of those who served during the 'Raj', but one Briton who bought a pottery jar, for less than £4, has found that the artefact's antiquity dates back to the Indus Valley, making it around 4,000 years old.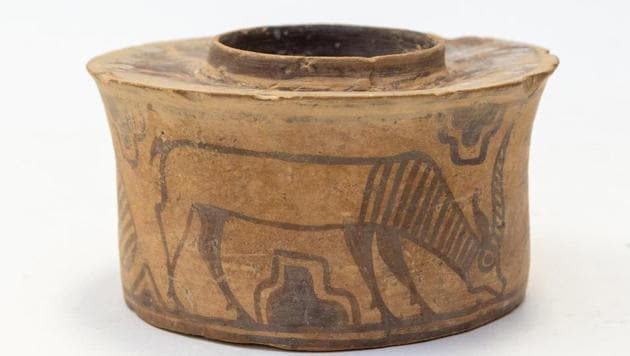 Based in Derby in the west Midlands, Karl Martin, who bought the jar at a car-boot sale with another pot for £4, was told of its antiquity by a colleague at the local auctioneers, Hansons. The jar with a painting of an antelope was put for auction this week, selling for £80.
A keen collector, Martin said: "I liked it straight away. I used it in the bathroom to store my toothpaste and toothbrush – it even ended up getting a few toothpaste marks on it. I suspected it might be very old but forgot all about it".
"Then, one day at work, I was helping Hansons' antiquities expert James Brenchley unload a van and noticed some pottery which was similar to my toothbrush pot. The painting style looked the same and it had similar crudely-painted animal figures".
"I rescued the pot from my bathroom and asked him to examine it for me. He confirmed it was a genuine antiquity from Afghanistan and dated back to 1900 BC. That means it's around 4,000 years old – made 2,000 years before Christ was born. It's amazing, really. How it ended up at a South Derbyshire car-boot sale, I'll never know".
Brenchley said: "This is an Indus Valley-Harappan civilisation pottery jar dating back to 1900 BC. This was a Bronze Age civilisation mainly in the north western regions of South Asia. The civilisation was primarily located in modern-day India and Pakistan as well as Afghanistan."
"I do come across items like this from time to time and was familiar with the painting technique. It was probably brought back to the UK years ago by wealthy travellers."
Topics