US makes H-1B visa approval tough, Indian firms to be impacted
Hindustan Times, Washington |
Yashwant Raj
Feb 24, 2018 11:23 AM IST
Indian IT companies, which are among the major beneficiaries of H-1B visas, have a significant number of its employees deployed at third-party worksites. A number of American banking, travel and commercial services depend on on-site IT workers from India.
The Trump administration has announced measures to "clarify" existing rules regarding hiring of H-1B workers to be used by US firms at third-party locations, basically outsourced operations.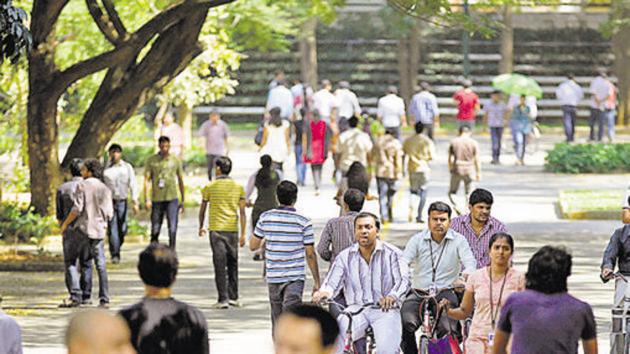 US Citizenship and Immigration Services (USCIS), which overseas work visas, said in a statement on Thursday that H-1B petitioners, or employers, will now have to "show by a preponderance of evidence" that the beneficiary will be employed in a "speciality occupation".
The employer will also have to maintain an employer-employee relationship with the beneficiary for the entire duration of the visa period, which has the possibility of an extension for another three years.
The full implications of the new rules could not be ascertained immediately, but NASSCOM, the Indian IT trade body, has said they would lead to more paperwork and make the process more tedious and that the worst hit will be the US economy as it would make it more restrictive.
Read| For spouses of Indians with H-1B visa, Trump's plans are a nightmare coming true
As a major beneficiary of H-1B short-term non-immigrant work visa to speciality occupations, Indian IT industry and professionals have watched with growing concern as the Trump administration tightened H-1B visa rules and processes with the stated goal of curbing its abuse and use to replace American workers.
The new policy, the USCIS said, "aligns" with President Trump's 'Buy American and Hire American' executive order that has been provided the framework for H-1B changes such as redefining "speciality occupation", ending work authorisation for H-1B spouses, and more on-site inspections.
Read | H-1B visa debate: In modern diplomacy, self-interest rules
The new policy makes the process stricter for H-1B workers to be used for third-party operations. Petitioners will be required to "demonstrate that they have specific and non-speculative qualifying assignments in a specialty occupation for that beneficiary for the entire time requested on the petition".
And, the agency added, "While an H-1B petition may be approved for up to three years, USCIS will, in its discretion, generally limit the approval period to the length of time demonstrated that the beneficiary will be placed in non-speculative work and during which the petitioner will maintain the requisite employer-employee relationship".