Trump brings up 'Pakistani mystery man' while countering Democrat lawsuit
The Pakistani American mentioned in Trump's tweet appears to be Imran Awan, who along with some family members, had worked as a computer technician for US lawmakers for several years.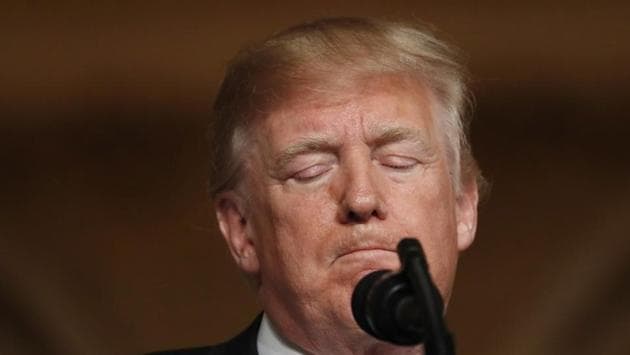 Updated on Apr 22, 2018 08:57 AM IST
Hindustan Times, Washington |
, Washington
Yashwant Raj
President Donald Trump on Friday introduced a "Pakistani mystery man" who he claimed had unspecified "documents" that would help him counter the Democrat's lawsuit against his campaign, WikiLeaks and Russia for alleged manipulation of the 2016 presidential election.
"Just heard the Campaign was sued by the Obstructionist Democrats. This can be good news in that we will now counter for the DNC Server that they refused to give to the FBI, the Debbie Wasserman Schultz Servers and Documents held by the Pakistani mystery man and Clinton Emails," Trump tweeted on Friday soon after the DNC, or Democratic National Committee, announced it had filed a lawsuit in a Manhattan court.
The 66-page DNC lawsuit lists the Russian government; President Trump; his son Donald Trump, Jr; son-in-law Jared Kushner; one-time advisor Roger Stone; former campaign chairman Paul Manafort; WikiLeaks founder Julian Assange; former campaign worker George Papadopoulos, former campaign associate Rick Gates as defendants, besides several unnamed others.
The 'Pakistani Mystery Man' mentioned in Trump's tweet is a nod to aggressive reporting in conservative media on Imran Awan, a Pakistani American computer technician.
Imran Awan, along with some family members, had done IT jobs for US lawmakers for several years. Imran, his brothers Abid Awan and Jamal Awan, as well as his wife Hina Alvi and friend Rao Abbas, were subject of a federal investigation. The investigators of the Inspector General's Office had been quietly tracking the five IT workers' digital footprints for months, according to a Washington Post report on the issue last year.
They appeared to be accessing congressional servers without authorisation, an indication that they "could be reading and/or removing information," according to documents distributed at a meeting the investigators had in late September 2016 with leaders in the House of Representatives, the report had said.
Investigators arrested Imran Awan in July 2017 for an unrelated bank fraud. Debbie Wasserman Schultz, mentioned in Trump's tweet on Friday, was one of the lawmakers Imran had worked for. She chaired the DNC for much of 2016 election campaign cycle. The US representative from Florida had refused to sack Imran Awan until she was shown incontrovertible proof of his guilt.
But the case of the Pakistani Americans became a lightning rod for Conservative media outlets, which ran numerous stories alleging the family was spying for Pakistan, and that theory grew in the days after his arrest.
The Daily Caller, a conservative news media organisation co-founded by Indian American Neel Patel, was among those that ran articles about Imran Awan, often calling him the "Pakistani mystery man". It sent reporters to Pakistan to investigate his antecedents, which, in the telling of the publication, unearthed links going right up to Pakistani intelligence.
One such despatch from its team in Islamabad on Wednesday said Awan had "transferred a USB drive to a Pakistani senator and former head of a Pakistani intelligence agency". It had cited his father's former business partner, Rashid Minhas, as the man behind the allegation.
The article, with the headline 'Pakistani Mystery Man': Awans' Father Transferred Data To Pakistani Government, Ex-Partner Claims' alleged that Awan's father, Haji Ashraf Awan, had given data to Pakistani official Rehman Malik in 2008. Malik was chief security adviser to former Prime Minister Benazir Bhutto and became interior minister in the government that took office after Bhutto's assassination.
"After Imran's father deliver (sic) USB to Rehman Malik, four Pakistani [government intelligence] agents were with his father 24-hour on duty to protect him," the former business partner told The Daily Caller, without specifying the content in the USB.
But the "Pakistani mystery man" does not figure in an equally combative statement released on Friday by the Trump campaign, which called the Democrat's lawsuit a "sham". Reprising much of the attack line doled out by Trump, it threatened to use the opportunity to grant FBI access to the DNC server that was hacked by Russians.
The Trump campaign said it would question decisions of the Clinton campaign and the DNC, including Debbie Wasserman Schultz.
Close Story
Personalise your news feed. Follow trending topics