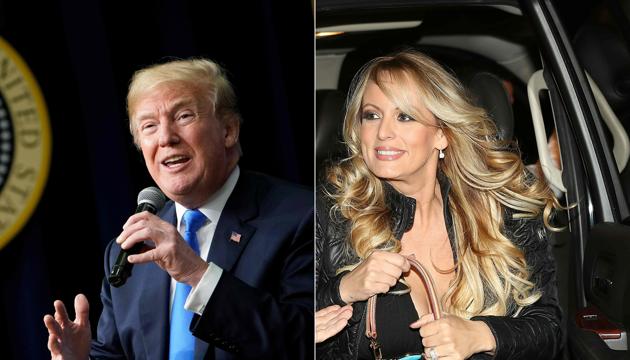 Trump confirms he repaid lawyer for porn-star hush-money
The goal of Giuliani's stunning remarks seemed to have been to conclusively prove the payment did not violate campaign finance laws, which could put the president in serious legal jeopardy.
Hindustan Times, Washington | By Yashwant Raj
, Washington
UPDATED ON MAY 04, 2018 08:25 AM IST
US president Donald Trump on Thursday said his long-time personal lawyer Michael Cohen was reimbursed the $130,000 he had paid adult film star Stormy Daniels under an agreement to "stop the false and extortionist accusations made by her about an affair" with the president more than a decade ago.
The president went on to say in a string posts on Twitter the payment to Cohen was made through a monthly retainer and "not from the campaign and having nothing to do with the campaign and money from the campaign, or campaign contributions, played no role in this transaction".
The president's remarks came hours after Rudy Giuliani, former New York mayor and new member of Trump' legal team, told Fox News in a stunning interview that the president had reimbursed Cohen. "The president repaid it," Giuliani said, sending shockwaves through the capital and New York city, which is home to the president, the former mayor, the Trump Organization and Cohen.
But he seemed uncertain if the president knew of the payment to Daniels, whose real name is Stephanie Clifford. He said Trump "didn't know about the specifics of it, as far as I know. But he did know about the general arrangement, that Michael would take care of things like this".
Cohen had earlier claimed he had taken the money from his home-equity line and that he had not been reimbursed by Trump or the Trump organization.
The long-time personal lawyer, who ha also called himself a fixer for Trump, is under a federal investigation for possible bank fraud and campaign finance law violation for this payment. FBI investigators had looked for relevant documents and material during a raid of Cohen's home, hotel suite and office in New York in April.
They had also searched for material pertaining to a payment made to a former playboy model Karen McDougal by a news publication friendly to Trump for her story about her affair with Trump, which they never ran.
The goal of Giuliani's stunning remarks seemed to have been to conclusively prove the payment did not violate campaign finance laws, which could put the president in serious legal jeopardy. Trump's follow-up tweets reaffirmed that, insisting no campaign funds were involved.
Asked by reporters on Air Force One on April 5 if he knew about the payment, Trump had said, "No", adding he did not know where Cohen had gotten the money for it. He had referred reporters to Cohen for further questions.
When asked why Cohen made the payment to Daniels it there was no truth to her allegations, the president had said, "You'll have to ask Michael Cohen."
Daniels was paid $130,000 in October 2016, just days before the November 7 elections to prevent Daniels from speaking out about her claims of an affair with Trump in 2006, which the president has denied.
Her story could have been damaging for the then Republican candidate who was already under a cloud at the time for his remarks about women and how he treated them over several decades, specially the Access Bollywood tapes and charges of sexual misconduct from several women.
In interviews to other news publications after Fox News, Giuliani said the reimbursement was made through monthly payments of $35,000 starting after the campaign was over. In all, Cohen collected $460,000 or $470,000 through these payments, which, Giuliani said, was paid out of Trump's "personal family account".
Feeling quietly vindicated by the interview was Daniels' combative attorney, Michael Avenatti, who said it was an admission the president had lied to the American people.
He tweeted: "By what we have now learned, Mr Trump stood on AF1 and blatantly lied. This followed the lies told by others close to him, including Mr Cohen".
Close