Trump ends talks on health care, forces Republicans to decide
Updated on Mar 24, 2017 10:07 PM IST
With Democrats all aligned against the healthcare act moved by Paul Ryan, Republicans cannot afford the defection of more than 22 of their members.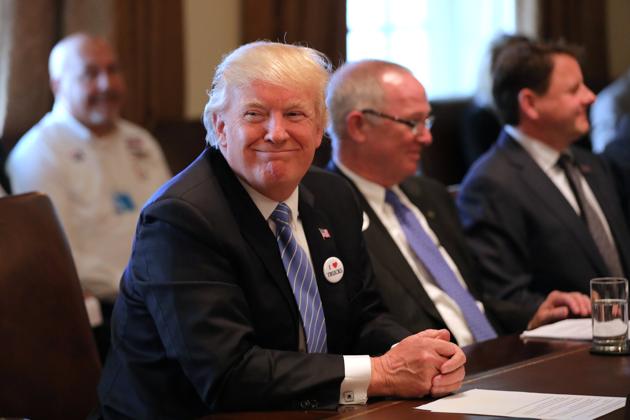 Hindustan Times, Washington |
Yashwant Raj
Hours before the US House of Representatives began the process to vote on a legislation repealing and replacing Obamacare, President Donald Trump tried one more time to persuade a group of hard-right Republicans lawmakers whose continued recalcitrance has set up the first major test of his famed deal-making abilities.
"After seven horrible years of ObamaCare (skyrocketing premiums & deductibles, bad healthcare), this is finally your chance for a great plan!" the president wrote in a tweet Friday morning, addressing that group, Freedom Caucus, specifically in the next post, trying to reason with them, arguing, would they rather continue with Obamacare.
The Freedom Caucus is a group of about three dozen hard-right Republican members of the House that has been a nightmare for the party leadership before. This is Trump's first encounter with them, and it has not gone off well for him so far.
With Democrats all aligned against the legislation, called the American Health Care Act, Republicans cannot afford the defection of more than 22 of their members.
Trump has tried a mix of personal charm and threats to bring them around, but on Thursday evening he despatched an aide to tell the holdouts in a closed-door meeting he was done negotiating and that it was time to vote and choose between continuing with a law they have railed against for seven years and his plan, no matter how imperfect it may seem.
Some of those opposing the bill appeared to have been moved by the ultimatum, but it wasn't clear if they will be joined by enough of the others to push it through.
Replacing Obamacare — Affordable Health Care Act as it is called — has been a central promise of Republicans in every election since President Barack Obama signed it into law in 2010.
Trump embraced the party line fully when he ran for the White House. But the legislation in front of the House is not his. It was written and moved by House speaker Paul Ryan, but the President threw his weight behind it completely as one of a series of big-ticket legislative actions, such as tax reforms and a massive $1 trillion infrastructure upgrade, he has on his agenda.
While his gamble to end negotiations and force the holdouts to choose between Obamacare and a flawed replacement bill could work and the bill might pass, the President is reported to have been harbouring doubts if it was the right decision to go with healthcare replacement first, tactically.
When asked by reporters at a White House if expected the bill to pass, he said, "We'll have to see what happens."
The House vote is expected later on Friday. If passed, it will move to the Senate, where it is likely to encounter opposition from some Republicans as well.
Personalise your news feed. Follow trending topics