Dance diplomacy: In Saudi, Trump shakes a leg during traditional sword ceremony
The traditional men's sword dance is known as the ardah, according to the Saudi Embassy in the United States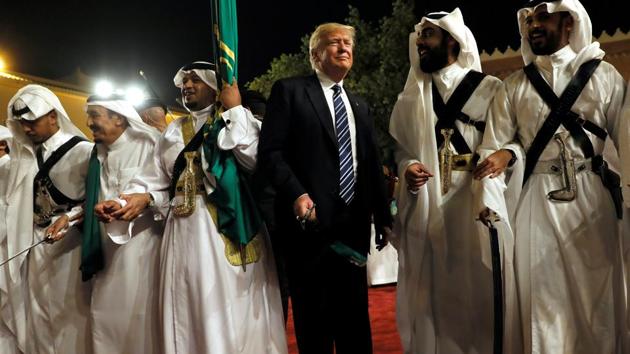 Updated on May 21, 2017 10:14 PM IST
Riyadh |
Agence France-Presse
The mood in Riyadh was in sharp contrast to Washington where pressure is building after fresh claims over the President Donald Trump team's alleged links to Moscow.
On his first foreign tour as the US President, Donald Trump joined in a traditional sword dance welcome ceremony ahead of a banquet at the Murabba Palace in Saudi Arabia.
Video of the dance shows Secretary of State Rex Tillerson and Commerce Secretary Wilbur Ross dancing with swords perched on their shoulders as part of a line of men in traditional Saudi garb, CNN reported.
Trump, surrounded by Saudi officials, bops back and forth with a smile on his face, while White House chief strategist Steve Bannon, chief of staff Reince Priebus and chief economic adviser Gary Cohn appear more reserved in their moves.
The traditional men's sword dance is known as the ardah, according to the Saudi Embassy in the United States. The performance combines dance, drumming and chanting poetry, and it signifies the start of notable occasions like religious holidays or weddings, according to the United Nations.
A red carpet was rolled out and staircase rolled up to Air Force One after it landed at King Khalid International Airport in Riyadh shortly before 10:00 am local time.
Trump and his wife Melania, who dressed conservatively in black but did not cover her hair, walked side-by-side to the tarmac where they both shook hands with King Salman.
Trump's daughter and presidential adviser Ivanka Trump and Trump's son-in-law and senior advisor Jared Kushner exited from the rear of the plane, holding hands as they walked across the tarmac.
Close Story
Personalise your news feed. Follow trending topics