Trump to meet with CEOs of tech companies including Apple, Alphabet, Microsoft
Trump will meet with almost 20 chief executives of tech companies to discuss cutting government waste and improve services.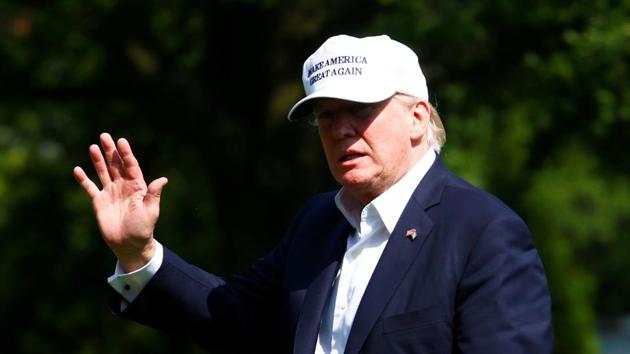 Updated on Jun 21, 2017 11:05 AM IST
Reuters, Washington |
Reuters
President Donald Trump will meet with the chief executives of technology companies including Apple Inc and Amazon.com Inc on Monday as the White House looks to the private sector for help in cutting government waste and improving services.
White House officials said on a conference call on Friday that the administration believed there was an "economic opportunity" to save up to $1 trillion over 10 years by significantly cutting government information technology costs, reducing government costs through improved IT, leveraging government buying power and cutting fraud across government agencies.
The meeting with nearly 20 chief executives comes as the White House pushes to shrink government, cut federal employees and eliminate regulations. Many business executives are eager to work with the new administration as they face numerous regulatory and other policy issues.
In May, Trump created an "American Technology Council," the latest in a series of efforts to modernise the US government. He signed a separate order in March to overhaul the federal government and tapped son-in-law and senior adviser Jared Kushner to lead a White House Office of American Innovation to leverage business ideas and potentially privatise some government functions.
Others planning to attend include Alphabet Inc Executive Chairman Eric Schmidt, venture capital firm Kleiner Perkins Chairman John Doerr and the chief executives of Microsoft Corp IBM Corp, Mastercard Inc, Intel Corp, Qualcomm Inc, Oracle Corp and Adobe Systems Inc, a White House official said on Sunday.
In May, Trump asked lawmakers to cut $3.6 trillion in government spending over the next decade, taking aim at healthcare and food assistance programs for the poor in a budget that also boosted spending on defense.
A 2016 US Government Accountability Office report estimated the US government spent more than $80 billion in IT annually, excluding classified operations. In 2015, there were at least 7,000 separate IT investments by the US government and some agencies were using systems that had components at least 50 years old.
Chris Liddell, a White House official who directs the American Technology Council and is a former Microsoft and General Motors Co chief financial officer, said on Friday the Trump administration aimed to improve government services to at least the level of the private sector.
VISA PROGRAM
The tech CEOs and White House also plan to discuss Trump's review announced in April of the US visa program for bringing high-skilled foreign workers into the country.
More than a dozen Trump administration officials including Vice President Mike Pence, Treasury Secretary Steven Mnuchin, Kushner and Liddell will hold group sessions with the chief executives before they jointly meet with Trump.
The council also seeks to boost the cyber security of US government IT systems and wants to learn from private-sector practices. In 2015, hackers exposed the personal information of 22 million people from US government databases.
In a document outlining the working-group sessions, the White House said the federal government should require "making it easy for agencies to use the cloud."
The White House thinks it can take lessons from credit card companies in significantly reducing fraud. A 2016 government audit found that in Medicaid alone, there was $29 billion in fraud in a single year.
Following Trump's June 1 decision to withdraw from the Paris climate accords, Tesla Chief Executive Elon Musk and Walt Disney CEO Robert Iger stepped down from White House advisory panels. White House officials said the dispute had little impact and that they had to turn away tech leaders from Monday's event because of lack of space.
Close Story