'Ukraine bleeding but...' - shelling continues after brief ceasefire: 10 updates
Published on Mar 06, 2022 06:39 AM IST
Ukraine war: Tens of thousands of people are at risk in major cities, including the capital city of Kyiv.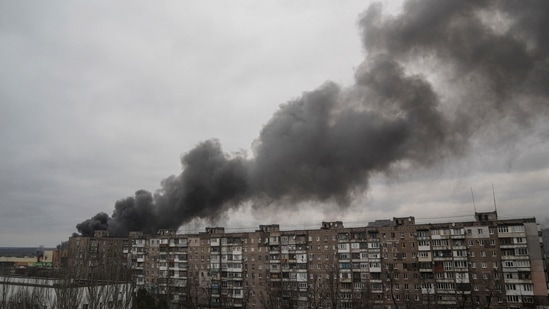 "Ukraine is bleeding but Ukraine has not fallen and stands (with) both feet on the ground," foreign minister Dmytro Kuleba said on Sunday as the Russian offensive entered the eleventh day with shelling continuing in the port city of Mariupol where a brief ceasefire was announced by Moscow on Saturday. Tens of thousands of people are at risk in other major cities too, including the capital city of Kyiv. "The city is in a very, very difficult state of siege. Relentless shelling of residential blocks is ongoing, airplanes have been dropping bombs on residential areas," mayor Vadym Boychenko was quoted as saying by news agency Reuters. Facing global pressure to call back his troops, Russia's Vladimir Putin has accused the West of "acting like bandits" in his latest remarks.
Here are the top updates on the Ukraine war in 10 points:
1. Ukraine president Volodymyr Zelenskyy on Sunday said he spoke to Joe Biden and discussed with the US president about the security and financial support. "As part of the constant dialogue, I had another conversation with the President," he tweeted.
2. Zelenskyy has been making a desperate appeal to the West for warplanes as the shelling continues in major cities. The US is talking with NATO allies about a plan and send help to Kyiv in this regard, reports have said.
3. In a video address, Dmytro Kuleba said: "The Ukrainian army is defending the country in all directions. They have achieved some major success in the last 24 hours pusing back Russian invaders on a number of fronts. The myth of an unbeatable and almighty Russian army is already ruined. This is a true people's war.."
4. Undettered by appeals worldwide, Russia's Vladimir Putin said Ukraine's future was in doubt. "If they continue to do what they are doing, they are calling into question the future of Ukrainian statehood. And if this happens, it will be entirely on their conscience," he was quoted as saying by news agency AP. On global sanctions, he said: "These sanctions that are being imposed, they are akin to declaring war. But thank God, we haven't got there yet."
5. Nearly 10,000 Russian troops have died so far, Kyiv has said. A third round of ceasefire talks will be held Monday.
6. More than 1 million people in Ukraine have been forced out of their homes. "This is the fastest moving refugee crisis we have seen in Europe since the end of World War Two," UN refugee agency head Filippo Grandi told Reuters.
7. UK prime minister Boris Johnson on Sunday said he will launch an international 'plan of action' to make a "renewed and concerted effort" and end Moscow's invasion of Russia. Diplomatic meetings next week will be a part of this plan, news agency AFP reported. "It is not enough to express our support for the rules-based international order -- we must defend it against a sustained attempt to rewrite the rules by military force," his office was quoted as saying.
8. Protests continue worldwide against the Ukraine war. From New York to Paris, tens of thousands of people have poured out on streets to demand an end to Russia's aggression, AFP reported.
9. Visa and Mastercard joined the brands in boycotting the agression by suspending their services in Russia, reports said.
10. The Russian troops have intensified their attacks in the south.
(With inputs from Reuters, AP, AFP)
Personalise your news feed. Follow trending topics