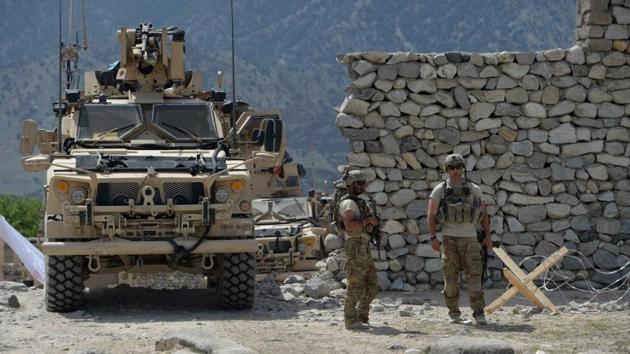 US aims to eliminate IS from Afghanistan this year
Washington | By Agence France-Presse
PUBLISHED ON MAY 02, 2017 03:20 PM IST
After dropping a monster bomb on its fighters, then targeting its leader, the US military is looking to destroy the Islamic State group's Afghan branch before battle-hardened reinforcements arrive from Syria and Iraq.
While US and Kabul government forces have mainly been combatting Taliban fighters since 2001, IS's local offshoot — also known as Islamic State-Khorasan, or ISIS-K — has a stronghold in eastern Afghanistan.
First emerging in 2015, ISIS-K overran large parts of Nangarhar and Kunar provinces, near the Pakistan border, but their part in the Afghan conflict had been largely overshadowed by the operations against the Taliban.
Many Americans first heard of ISIS-K last month when the US dropped the "Mother Of All Bombs" on its Nangarhar bastion — an aerial munition that the Pentagon said was the biggest non-nuclear weapon it had ever used in combat.
US and Afghan forces then raided a compound last week close to the site of the bombing, with the Pentagon saying it believed it had killed ISIS-K's leader Abdul Hasib during the operation.
Captain Bill Salvin, spokesman for US Forces-Afghanistan, said the local IS presence peaked at between 2,500 to 3,000 but that defections and recent battlefield losses had reduced their number to a maximum of 800.
"We have a very good chance of destroying them in 2017, making it very clear that when the ISIS fighters are destroyed elsewhere around the globe that this is not the place for you to come to plot your attacks," Salvin told AFP.
US-backed fighters also appear to have IS on the ropes in Syria and Iraq, where an operation to wrest back control of the major northern city of Mosul has been ongoing since October.
But both the military and analysts acknowledge there is a danger of IS fighters heading to Afghanistan if they are forced out of Iraq and Syria.
Michael O'Hanlon, a senior fellow in foreign policy at the Brookings Institution, said that while IS should ultimately be defeated in Afghanistan, the Pentagon's timeline may be overly optimistic.
A definitive victory could take "a long time due, partly (due) to the proximity of Pakistan as well as the possible flow of fighters" from the Middle East as the "group loses sanctuaries there," O'Hanlon told AFP.
The Taliban, which first emerged in the mid-1990s in southern Afghanistan, managed to conquer most of the country before its 2001 ouster with the help of a range of foreign jihadists, including Pakistanis, Saudis and Chechens.
Analysts say that as well as Afghans, ISIS-K includes disaffected Pakistani and Uzbek Islamists among its ranks who used to fight for the Taliban.
It first emerged as a significant player in Afghanistan in early 2015 when its fighters overran the Taliban in parts of the east and has subsequently claimed responsibility for a string of bomb attacks.
ISIS-K's defeat would be an important victory for the US, which has struggled to boast of clear wins after forcing the Taliban out of Kabul in 2001 in the initial aftermath of the September 11, 2001 attacks.
Close