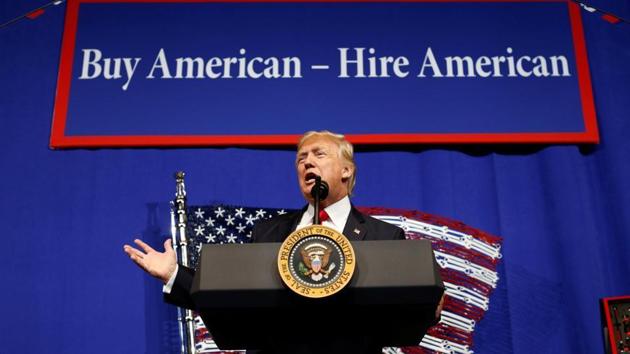 Thousands of Indians may be hit as Trump plans to stop spouses of H-1B visa holders from working in US
Indians account for almost 70% of the 85,000 H-1B visas issued by the US every year and 36,000 holders of H-4 visas have been granted work authorisation this year.
Hindustan Times, Washington | By Yashwant Raj
UPDATED ON DEC 17, 2017 10:32 AM IST
The Trump administration is planning to end an Obama-era regulation that allows spouses of H-1B workers — most of them from India and China — to work in the United States, a federal registry notice has stated.
The move will likely impact thousands of Indian nationals and their families — Indians account for almost 70% of the 85,000 non-immigrant, temporary work visas issued by the US every year.
The Obama administration's regulation was introduced in 2015 to extend work authorisation to some of those on H-4 visa, spouses of H-1B visa holders in line for permanent residency (Green Cards) and to attract and retain talent from abroad, but it had become a target of critics of foreign workers' programmes.
"DHS (department of homeland security) is proposing to remove from its regulations certain H-4 spouses of H-1B nonimmigrants as a class of aliens eligible for employment authorisation," the notice published on Thursday said.
Besides scrapping the rule allowing spouses to work, the DHS notice mentioned plans for other changes in the H-1B programme, including revising the list of occupations eligible for the scheme "to increase focus on truly obtaining the best and brightest foreign nationals".
The DHS said its action was in light of President Donald Trump's executive order 13788 of April on "Buy American and Hire American". A final decision is expected by February.
R Carter Langston of the US Citizenship and Immigration Services (USCIS) said in a statement: "The agency is considering a number of policy and regulatory changes to carry out the President's 'Buy American, Hire American' executive order, including a thorough review of employment based visa programmes.
"USCIS is focused on ensuring the integrity of the immigration system and protecting the interests of US workers, and is committed to reforming employment based immigration programmes so they benefit the American people to the greatest extent possible. No decision about H-4 visas is final until the rule-making process is completed."
The Trump administration has taken a hard line on both legal and illegal immigration. The president has ordered a review of the H-1B visa programme, which allows US businesses to hire highly skilled foreign workers, to end its alleged misuse and abuse to displace Americans.
While larger changes — such as in the Congress-mandated annual cap of 85,000 — would have to be legislated as part of a comprehensive immigration package, the administration has been changing rules and regulations to tighten the H-1B programme. For instance, raising the bar for qualifying as "highly skilled".
In 2015, the USCIS granted 26,858 employment authorisation documents to H-4 visa holders, 41,526 in fiscal 2016, and 36,366 from October 1, 2016 to June 29, 2017.
Save Jobs USA, a group of IT workers who say they were displaced by H-1B visa-holders, took the 2015 rule to court almost immediately after it was announced. But the court threw out the lawsuit saying it had "no standing".
But the organisation did not give up, challenging the ruling in the Washington court of appeals, a higher court. It filed its first brief in January 2017, with the incoming Trump administration known for its antipathy towards H-1B visas.
Attorney general Jeff Sessions too has said the rule "hurts American workers".
Immigration Voice, an advocacy group for H-1B visa-holders waiting for their Green Card has challenged the lawsuit, arguing that this "rule is critically important to allow both parents in families to work and provide for their loved ones together in the United States rather than being separated in two different countries during what is often over a decade long wait for a Green Card".
The withdrawal of the rule, it has argued, could adversely impact those on H-4 visas, who have gone on to start businesses employing American workers. Shutting them down could lead to the loss of those jobs.
The Trump administration's proposed changes to the H-1B visa programme have emerged as an irritant in India-US relations.
During a visit to the US in October, finance minister Arun Jaitley told his American interlocutors that Indians coming to America on H-1B visas are high quality professionals and not "illegal economic migrants", and their position must thus be considered "appropriately" in future policy decisions.
India's concerns about changes in non-immigrant visa regimes were conveyed by Jaitley to treasury secretary Steven Mnuchin and commerce secretary Wilbur Ross. "These are very high quality, highly paid professionals. They have contributed immensely to the US economy, therefore they add value to the US economy," Jaitley told reporters at the time.
Close