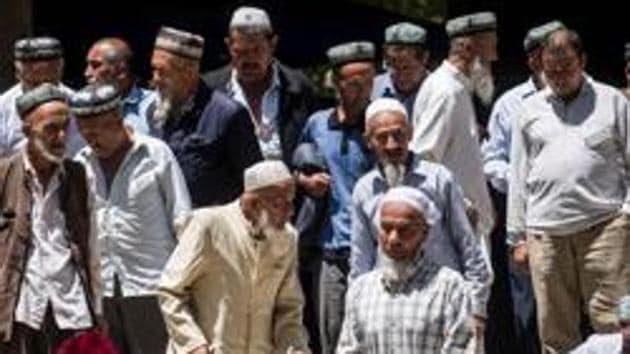 Use of 'halal' logo in restaurants restricted in China's Xinjiang
Some of the Chinese government's policies for the Xinjiang Uyghur Autonomous Region include restrictions on wearing veils, sporting long beards and fasting during the holy month of Ramzan.
Hindustan Times, Beijing | By Sutirtho Patranobis
, Beijing
UPDATED ON DEC 12, 2017 07:38 PM IST
Chinese authorities have banned the use of "unauthorised" halal logos in restaurants in Urumqi, the capital of the restive Xinjiang region in the country's far west, a move that experts say is aimed at reducing religious symbolism in everyday life.
The halal sign can only be used in restaurants that meet standards set by the China Islamic Association (CIA) for Islamic cuisine, state media reported on Tuesday.
The association is the Communist Party-approved national organisation for Muslims in China. Halal food must be genuine and meet standards required by the Quran and Islamic law, the association had earlier said.
"To make sure the halal food is genuine is to protect Muslim consumers from spiritual harm. Fake halal food might not hurt their lives but will make them suffer mental trauma," state media quoted the association as saying.
The Xinjiang Uyghur Autonomous Region, home to millions of Muslim Uyghurs, has witnessed unrest blamed by Beijing on radical extremists. Rights groups, however, say the violence is triggered by the Chinese government's repressive policies.
Some of these policies include restrictions on wearing veils, sporting long beards and fasting during the holy month of Ramzan.
The latest move to weed out unauthorised halal logos is directed at preventing the proliferation of fake Islamic cuisine.
"Only restaurants with a proper halal certificate that complies with the halal standards of the association are allowed to hang signs with halal," an Urumqi-based official told the Global Times tabloid.
Those who do not remove the logos have been asked to cover them up, officials said.
"The order can be interpreted as a bid to downplay the religious effect in people's daily life," Xi Wuyi, an expert on Marxism at the Chinese Academy of Social Sciences, said in a comment on Chinese social media.
"Respecting dining habits of ethnic minority groups does not mean promoting the related religious factors in social life," Xi was quoted by a newspaper as having written on social media.
Earlier this year, the Xinjiang government passed a law banning veils and "abnormal" beards in what was officially said to be an effort to curb displays of ­extremism.
In 2015, a Uyghur man and his wife were sent to jail for six years and two years in jail respectively for growing a beard and wearing a veil and burqa.
Close