Video of Musharraf dancing becomes butt of jokes in Pakistan
Updated on Jan 25, 2017 07:45 PM IST
Months after Pervez Musharraf left Pakistan to seek medical treatment abroad, a video showing him dancing with a young woman has prompted comments on social media about him making a "miraculous recovery".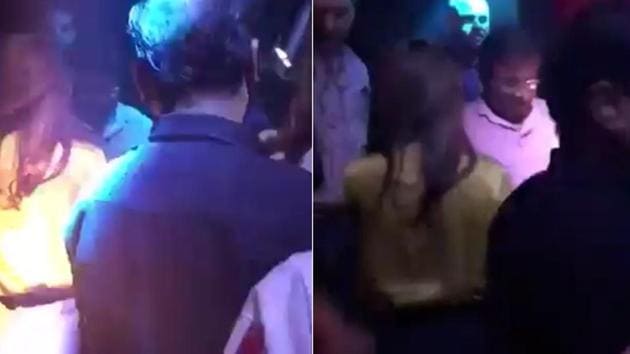 Hindustan Times, Islamabad |
Imtiaz Ahmad
An undated video of Pervez Musharraf dancing at a nightclub with a much younger woman has become the butt of jokes in Pakistan, with social media users commenting the former president had made a "miraculous recovery" from the back pains that he gave as his reason for travelling abroad to seek treatment.
Musharraf's spokesman in Pakistan has refused to comment on media speculation that the clip is recent. The video made the rounds some 10 months after the former military ruler left Pakistan on the grounds of poor health.
Leading TV anchor Hamid Mir commented in the media that Musharraf must have made a "miraculous recovery", given the manner in which he was seen dancing with the young woman.
Informed sources said the clip is recent and was shot at a nightclub in Dubai. The video went viral in Pakistan but no political party has taken it up so far or mentioned it. By and large, the Pakistani media too has refrained from any commentary on it.
Geo News channel reported the video had ironically surfaced within days of Musharraf's counsel Akhtar Shah filing an application in court that sought a direction to authorities to provide "extraordinary" security to the former president on his return to Pakistan as he faces "serious security threats". The application also cited medical and security reasons for Musharraf's absence from the country.
Musharraf left the country in March last year, saying he needed to travel abroad for treatment. He gave a commitment to the court that he would come back soon. Musharraf is facing charges in connection with the killings of former premier Benazir Bhutto, Baloch leader Akbar Bugti and Ghazi Abdul Rasheed, a cleric of the Lal Masjid. He is also facing treason charges for imposing emergency rule in November 2007 and arresting judges.
There has been widespread speculation that Musharraf was allowed to leave Pakistan under a deal brokered by the powerful army.
Another video of Musharraf dancing with his wife that emerged a few months ago attracted criticism from the public, with many asking him to come back to Pakistan and face the cases against him as he appeared to be fit.