We have now moved to war within states: Harvard historian David Armitage
The major problem with civil war – and even Romans knew this, so it has been known for 2000 years – is that scars left by them are often much more intimate and painful, says renowned Harvard historian David Armitage.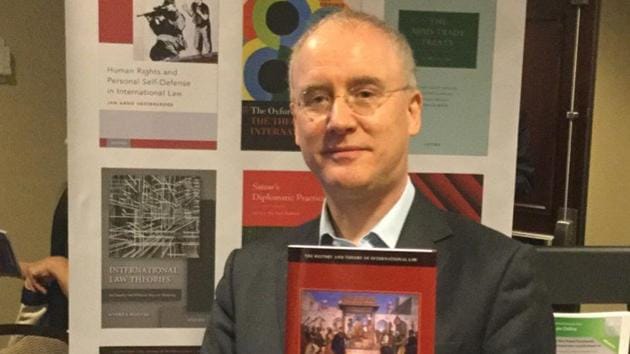 Updated on May 02, 2017 12:40 PM IST
David Armitage is a renowned Harvard historian. His latest book, Civil Wars – A History in Ideas, has been hailed in the western academic community and media as a breakthrough in the study of civil wars.
He spoke to the Hindustan Times about his book. Here are the excerpts:
Q. Could you tell us something about the book and how civil wars have evolved over the centuries?
It is an attempt to trace over 2000 years, going all the way back to Republican Roman, the genesis and genealogy of the ideas of the civil war till the present. I am trying to see why we seem, even now in the 21st century, so confused about what is or is not a civil war, why those categories are so politicised and ideological in relation to particular conflicts like those in Iraq or Syria in recent years. What I have tried to do is trace how ideas of civil war have changed as different communities and experts have intervened to depoliticize or redefine what is or is not a civil war.
For instance, the first legal attempts to define a civil war came in the 19th century in the context of the US civil war because of the pressure to define the illegitimacy of one side, the Confederacy. That maps very closely how modern conceptions of civil wars have involved the politics of legitimating or delegitimating different parties. To use the term civil war now can work in two directions. It can work in identifying two sides or even more than two sides in a conflict as legitimate belligerents, worthy of the protection of the Geneva Conventions and international humanitarian law. Or it can work in another direction – of outside powers, for political purposes, thinking of a conflict as a civil war in order to deny the possibility of intervention, as the case in Syria. If a war is a civil war, it is an internal conflict, inside another country, it is often used to denote conflicts as being ethnic, atavistic, backward-looking, and something that great powers like the US should stay out of.
That division of the politics of naming of civil wars is an indication of how much power resides in the name, and how far the naming becomes the framing of the conflict leading to enormous implications for international interventions, humanitarian aid and thus ultimately for the lives of all those who are affected by these conflicts and who may be looking for support and legitimation for their part of those conflicts.
Q. Is there a pattern we can draw? When does an armed rebellion turn into a civil war?
There is not one single pattern. There is no natural category of rebellions or civil wars. These are both political categories and thus politicised categories which are deployed for tactical advantage by different parties. It is often the transformation of one form of conflict into another that marks the boundaries between legitimacy and illegitimacy.
To go back to a key point in my book, and the larger story of civil wars, the US civil war – one of the largest conflicts in the middle of the 19th century – was relatively rarely called a civil war while it was going on. It was called a rebellion in particular by Abraham Lincoln, who called it a rebellion six times more often than he called it a civil war. Why would that be - because he did not want to legitimise the confederacy as equivalent to the union. To talk about the civil war for him would mean acknowledgement that it had become an international war, precisely the claim that the secessionist Confederacy wished the world to recognise.
That battle between whether a conflict is a rebellion or a civil war is a battle over authority, legitimacy and very often about international recognition and support. It is often famously said that the first casualty of war is truth. The first casualty of civil war is political language and the battle takes place in the naming and framing.
Q. You point out that we have moved from interstate to intrastate wars in recent decades. Why this shift?
If we look at world history, from the middle of 17th century to the Second World War, we saw an era of wars between states. We are now in an era of war within states. We can think about this in terms of the larger process of pacification that have resulted from the Second World War, with antecedents before, to create an international architecture of peace and order through both regional blocs and the UN.
What that has done is create a bifurcated world, where we seem to be at peace in terms of relations between states but what we see now are very large numbers of deaths happening outside the framework of the international state system. One is in civil war themselves across the world from Afghanistan to Yemen. The other is in unconventional forms of warfare that is not captured in the political and legal architecture. Violence has been squeezed outside the state system, and absorbed within particular states and exploded in unconventional forms of terrorism, asymmetrical warfare, drone warfare.
Q. Could we then say that conflict resolution mechanisms between states have improved but within states have not evolved?
And the two may be connected. Conventional mechanisms for declaring war and concluding war bear little or no relation to the form of conflicts that have characterised much of the latter part of the 20th and early 21st century. Civil wars, non-international armed conflicts, are never declared formally and so it is difficult to ascertain where they began and they are very rarely concluded with any form of peace negotiations or treaties.
Q. Why do certain conflicts lend themselves to resolution, and certain conflict remain so prolonged? Did you discover any pattern?
Political scientists who have studied such things would see them as linked to multiple factors – how far have societies become democratised, so how possible is it to resolve conflicts within conventional peaceful mechanisms.
The Colombian example is important. It was put to a referendum which undermined the final resolution that had been brokered by internal and outside powers. It shows that other regional powers and international organisations need to have a strong buy-in to forms of conflict resolution. So there has to be strong motivation not just for the parties within but also for those outside, neighbours, or larger external powers, or UN to have a stake in bringing parties together, creating conditions where they can negotiate, and in creating conditions where negotiated settlements can be maintained. Often in some of those cases, demilitarisation or the absorption of the military into democratic politics becomes essential.
The major problem with civil war – and even Romans knew this, so it has been known for 2000 years – is that scars left by them are often much more intimate and painful. They cross not only the lines of party or political affiliation but can dig deep within communities and families.
Negotiations that take place between parties or the state level have to be reproduced at other levels of society as well. That's one reason why civil wars often break out into further conflict because the difficulty of bringing high-level negotiation down to all levels of society when there is so much pain. The formal armed struggles may end but the battles over historical memory, responsibility and amnesty can continue for decades, generations.
Close Story