When did Meghan Markle and Kate Middleton's bitter feud begin? A report says…
Jan 19, 2023 02:26 PM IST
Kate Middleton- Meghan Markle News: a report revealed that the two were already at odds over couture.
The royal feud between Prince William's wife Kate Middleton and Prince Harry's wife Meghan Markle has been talked about for a long time. But a report revealed that the two were already at odds over couture. The rift between them started in 2017 due to London designer Erdem Moralioglu, New York Post reported. When Meghan Markle, then recently engaged to Prince Harry, suddenly found that the designer's label- one of her favourites- was not helping her out.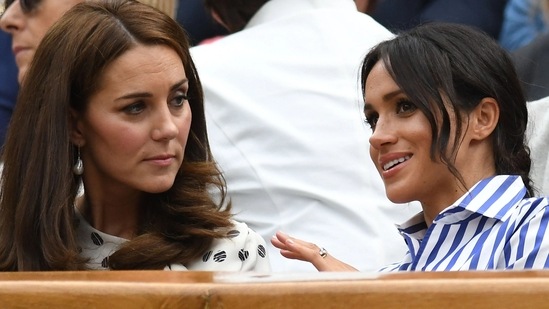 Read more: Prince Harry describes Meghan Markle's 'flawless' first curtsy but problem is…
The report said that this happened because Kate Middleton had an arrangement to receive VIP access to Erdem Moralioglu's outfits. Earlier, The Telegraph reported that there was a kind of hierarchy when it comes to fashion in the royal family as everyone tried to get "first dibs on designers."
Erdem Moralioglu's label was established in 2005 and is a statement brand for its romantic floral prints and elegant sequined dresses. Kate Middleton even wore the designer's dresses many times, including a off-the-shoulder frock with frayed edges and a fluted skirt in 2018.
Read more: When Meghan Markle faced 'yawning silence' after comment on Queen's birthday
Meghan Markle sported the dresses of the designer while working on Suits before meeting Prince Harry. She stepped out in the brand's Davina dress from the 2015 collection .
"Erdem Moralioglu was one of Meghan's absolute favourites, but even after Harry had put a ring on it, Kate, who was already a client, continued to get priority," the Telegraph reported.
In his memoir, Prince Harry detailed the icy feud between the two talking about the time when the duo fought over Princess Charlotte's bridesmaids dress not fitting correctly. The text exchange left Meghan Markle "sobbing on the floor", Prince Harry wrote in Spare.