Zelenskyy appears at Grammys in taped video: 'What is more opposite to music?…'
Published on Apr 04, 2022 08:34 AM IST
Ukrainian President Volodymyr Zelenskyy said at the Grammys that the musicians in the war-hit country "wear body armour instead of tuxedos" and "sing to the wounded in hospitals."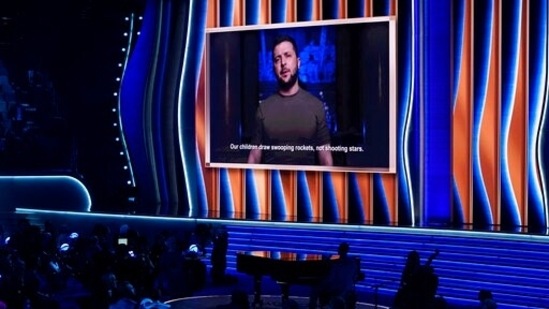 Ukrainian President Volodymyr Zelenskyy on Sunday appealed to viewers of Grammy Awards to support Ukrainians "in any way you can". In a video message aired at the music awards ceremony, Zelenskyy likened the Russian invasion of Ukraine to a deadly silence threatening to extinguish the dreams and lives of the Ukrainian people.
"What is more opposite to music? The silence of ruined cities and killed people," said Zelenskyy in his Grammy message aired ahead of a performance by American singer John Legend and Ukrainian poet Lyuba Yakimchuck.
The Ukrainian president told the viewers that the musicians in the war-hit country "wear body armour instead of tuxedos" and "sing to the wounded in hospitals, even to those who can't hear them."
"Fill the silence with your music. Fill it today, to tell our story. Support us in any way you can. Any, but not silence," he added. "Tell the truth about the war on your social networks, on TV, support us in any way you can any, but not silence. And then peace will come to all our cities."
Follow Grammy Awards 2022 live updates here
Disturbing images have been emerging from a Ukrainian city on the outskirts of Kyiv after the Russian troops withdrew from the area. Reports of torture lay scattered in Bucha as bodies with bound hands, and close-range gunshot wounds were found. Zelenskyy has called them evidence of genocide by Russian soldiers, an accusation dismissed by Russia's defense ministry as "provocation."
"To all our cities the war is destroying -- Chernihiv, Kharkiv, Volnovakha, Mariupol and others: They are legends already, but they have a dream of them living, and free," Zelenskyy said in the taped video.
"Free like you, on the Grammy stage."
Following Zelenskyy's message, Legend performed his song "Free" with Ukrainian musicians Siuzanna Iglidan and Mika Newton as images from the war appeared on the screen behind them.
Personalise your news feed. Follow trending topics